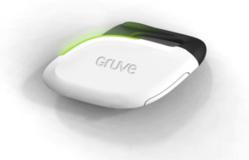 that leading medical institutions find that the Gruve provides a valuable contribution to their research studies
Minneapolis, MN (PRWEB) February 27, 2013
The Gruve®, a total body motion monitor from Gruve Technologies, Inc. proves useful for medical research by the University of Nottingham in an ongoing series of Sedentary Time and Diabetes (STAND) studies investigating behavior as a risk factor for adult diabetes. The Gruve is also currently being used in studies at world-class research institutions including Mayo Clinic, Kansas University Medical Center, the University of Minnesota and Loughborough University.
The Gruve device is centered on the concept of Non-Exercise Activity Thermogenesis, known as N.E.A.T. for short. N.E.A.T. is all the calories one burns while doing normal daily activity. The landmark concept of N.E.A.T was developed by Dr. James Levine after 10 years of research—sponsored by the National Institute of Health—showed that only low intensity movements have a direct relationship to long term weight loss and maintenance. In other words, normal non-exercise daily activity has been proven to be more effective in successful and sustainable weight loss than short intense exercise periods.
The Gruve is unique in the market place because it focuses on promoting N.E.A.T. activity, instead of intense exercise, for sustainable weight loss and weight control. Currently, there is no other activity monitor that is sensitive enough to measure N.E.A.T. activity. The Gruve has been certified to accurately measure 98% of N.E.A.T activity, making it accurate enough for for clinical and medical research.
Other activity monitors in the market place can record steps taken or short periods of intense exercise, but they lack the accuracy and sensitivity needed for use in scientific research studies. The findings of these medical research studies are expected to be published in medical and scientific journals.
"We are pleased that leading medical institutions find that the Gruve provides a valuable contribution to their research studies." says Dr. Robert Gauthier, CEO, Gruve Technologies, Inc. "When we show researchers the quality, degree of accuracy, and certification of our device for measuring N.E.A.T activity, they are excited about how this device can aid their studies."
About Gruve Technologies, Inc.
Gruve Technologies, Inc. provides scientifically validated weight loss and wellness products designed to provide a long-term sustainable path to better health. Headquartered in Minneapolis, MN, Gruve develops innovative technology and products based on cutting edge medical research that are proven effective to modify behavior and aid in weight loss. For more information, visit http://www.gruvetechnologies.com.