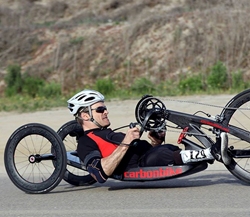 As a disabled person, it is that much more important to get consistent, quality exercise to be independent our whole lives
SEATTLE (PRWEB) July 19, 2018
The U.S. Paralympics, a division of the United States Olympic Committee, announced its roster of 18 athletes who will represent Team USA at the 2018 UCI Para-cycling Road World Championships in Maniago, Italy, from Aug. 2-5. Two-time Paralympic wheelchair basketball gold medalists Travis Gaertner of Burien Washington, who was born without his lower limbs, will make his World Championships debut along with seven reigning world championship medalists, 12 Paralympians, and six athletes who finished in the top-10 at the 2017 edition.
"As a disabled person, it is that much more important to get consistent, quality exercise to be independent our whole lives," said Mr. Gaertner. "Fourteen years ago I earned my last gold medal at the age of 24. To be able to go back at age 38 for a 3rd attempt at medal is an amazing opportunity to show people that age is just a number and that anything is possible, whether able-bodied or disabled." (see video)
From his youth, Gaertner has focused on athletic accomplishment, and his emphasis on excelling has chalked up numerous milestones. He served as captain of the University of Illinois wheelchair basketball team, joined the Canadian National Wheelchair Basketball Team for six years, and became a two-time gold medalist in wheelchair basketball after competing in the Sydney 2000 Paralympics and the Athens 2004 Paralympics for team Canada. Since becoming an American citizen in 2012, Travis has turned his attention toward a potential road to the Tokyo 2020 Paralympics in hand cycling with team USA. The Paralympic Games are a major international multi-sport event involving athletes with a range of disabilities. The games are held almost immediately following the respective Olympic Games in the same facilities.
Road to Tokyo Paralympics for Handcycling
After winning the Portland Marathon in 2017 with a time of 1 hour 16 minutes, Gaertner set his sites on once again competing on the world-stage with the ultimate goal of making the 2020 U.S. Paralympic Team. He switched his application of the sport from a hobby to a world-class training routine and progressed through the path to international competition quickly. He went on to win the 2018 Los Angeles marathon, shaving over 7 minutes off his Portland time and beating his competition by just under 10 minutes. He then became the 2018 national champion in the road race at the National Para-cycling Championships in Augusta, Georgia.
Debuting on the international stage just over a year ago and making it to the world stage is a very rare occurrence that requires a serious training regimen. As a father of three children and husband to his wife Laura of 10 years, Travis starts his day at 4:00 a.m. to ensure quality time with his family when they are awake. He has received the support of family and friends through his active GoFundMe page to help fund the cost of a competition. His employer has provided incredible support and work-life balance and his wife Laura has taken on the additional workload with the children and his hectic travel schedule.
"This is a great opportunity for Travis, a chance to test himself against the best in the world," said Jim Lehman, U.S. Para-cycling team coach. "I'm looking forward to seeing him take things to the next level."
Similar to able-bodied athletes, innovative equipment, wearable's, and mobile applications help Travis train and monitor performance. He primarily trains at home on a SCIFIT upper bod ergometer for intense, structured, and scientific intervals. When traveling, he uses a portable hand cycle from Seattle-based Excy (http://www.excy.com) to not miss workouts on the road and to add versatility to home workouts (video example). Gaertner relies on sports technology applications like Training Peaks, Garmin Connect, Strava, and Polar Beat. He always trains with Garmin to monitor.
"It has been a privilege to be part of Travis's training regiment as he transitions from world-class wheelchair basketball athlete to competing on the world stage for handcyling. He is beyond inspiring on so many fronts, from his role as a father, a husband, a busy professional, and an athlete. He's doing an amazing job showcasing just how powerful handcycling can be for able-bodied and those with disabilities to improve their cardiovascular health, increase upper-body strength, compete, and ride with friends and family. "
Additional information about the event can be found at http://www.maniago2018.it. Learn more about Gaertner at https://gaertnergold.com/