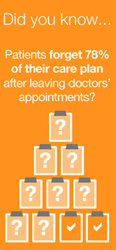 Boston, MA (PRWEB) March 04, 2014
The New York Times published the results of a two-part case study about UbiCare last week that looks at how the healthcare patient engagement company successfully generated revenue growth by bringing its innovative content delivery and data analytics technology in-house.
In a turbulent healthcare climate, where a lack of patient engagement and education has increased unnecessary costs of care and readmission rates, UbiCare has emerged as a key partner for hospitals. UbiCare disrupts the current state of healthcare by providing a solution; a patient engagement system that connects patients with providers by delivering relevant health information at precisely the right time.
As the case study shows, by becoming a technology company, UbiCare has increased its ability to be agile and responsive to industry needs. "Before, we had to look at a calendar to see when changes would get done. Now we look at a stopwatch," states Betsy Weaver, CEO and Co-Founder of UbiCare.
To learn more about UbiCare's mission to help hospitals engage and educate their patients, cut costs and improve healthcare overall, visit http://www.ubicare.com. Click here to download UbiCare's newest white paper "The New Model of Patient Engagement: The Future of Improved Care and Cost Reduction."
About UbiCare
UbiCare is the leader in customizable, targeted messages that deliver the right information at the right time to create and sustain effective patient/provider relationships. UbiCare's solutions improve health outcomes and help healthcare professionals sustain critical patient relationships throughout all electronic channels. UbiCare is the only patient engagement solution that provides customizable, turnkey evidence-based content that extends high-quality care through technology.
UbiCare has enabled hospitals and private practices—including the U.S. Department of Defense and 400 others—to be truly patient-centered innovators on the forefront of enhancing their patients' experience and outcomes for more than 10 years.