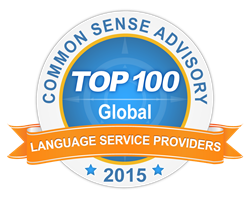 New York, NY (PRWEB) December 07, 2015
Ubiqus, a global leader in language, transcription, and event services, has again been recognized as one of the largest 100 language services providers in the world. According to "The Language Services Market: 2015," a report produced by independent market research firm, Common Sense Advisory, Ubiqus ranks as the 31st top-grossing language services provider globally for translation, localization, interpretation, and related technologies. Over the past 20 years, the company has experienced an average annual growth rate of 26.5%, which is reflected in its rise of six rankings from last year's research report.
Common Sense Advisory surveys language services providers from every continent to produce its global rankings report. In this year's study, reported revenue for 2013, 2014, and expected revenue for 2015 were collected to complete the ranking criteria. Further findings confirm that the demand for language services continues to rise, with the current growth rate at 6.46%, an increase over last year's rate of 6.23%.
As the industry evolves and demands grow, Ubiqus continues to take strategic steps to remain a qualified and reliable supplier of language services, one of which was acquiring premier translation company, LanguageWorks.
"Adding LanguageWorks to the Ubiqus U.S. family brings together the best practices of two companies that share a long-standing commitment to quality and information security management," commented Joanne Bove, Chief Executive Officer of Ubiqus U.S. "We acknowledge the importance of innovation in this growing industry and will continue to invest in the people and tools that help us meet the increasing needs of our clients."
About the Ubiqus Group
Ubiqus, headquartered in Paris, France, is a global leader in language, transcription, and event services. With market-leading divisions in the fields of translation, interpretation, transcription of audio and video, audience response, audio recording, and event badges, Ubiqus has served more than 21,000 clients worldwide. At an average annual growth rate of 26.5% over the last 20 years and with the integration of 15 companies across six offices in North America and five in Europe, Ubiqus extends service coverage and flexibility to its clients globally.
About Ubiqus U.S.
Ubiqus U.S., with offices in New York, New Jersey, and California, provides services nationwide to clients from the legal, financial, corporate, entertainment, law enforcement, and medical fields, as well as clients from the federal, state, and local levels of government. In 2014, Ubiqus U.S. translated over 2.8 million words into 60 languages, interpreted in more than 40 languages (including sign language) for more than 100,000 conference attendees, transcribed over 24,000 hours of audio recordings, and polled over 45,000 event attendees using its audience response and mobile polling systems. For more information, visit http://www.ubiqus.com.
About LanguageWorks
LanguageWorks, a division of Ubiqus, provides comprehensive foreign language solutions to global companies in a variety of industries, including financial, healthcare, legal, manufacturing, technology, and marketing. Reflecting a steadfast commitment to quality management and data security, it is one of the few language service providers to hold ISO 9001:2008, ISO 13485:2003, and ISO 27001:2005 certifications. Since 1993, LanguageWorks has completed more than 100,000 translation projects in over 100 languages for 4,200 companies. For more information, visit http://www.languageworks.com.
About Common Sense Advisory
Common Sense Advisory is an independent market research company specializing in translation, localization, interpreting, globalization, and internationalization analysis and consulting. For more information, visit http://www.commonsenseadvisory.com.
Media Contact:
Cherrell Paige
Marketing Manager, Ubiqus U.S.
Telephone: 212-346-6666
Fax: 888-412-3655
Email: cpaige(at)ubiqus(dot)com
Website: http://www.ubiqus.com