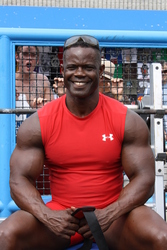 The Billy Robinson Project is real! The film goes beyond the chiseled body and into the positive strength of his soul.
Beverly Hills, CA (PRWEB) July 20, 2010
United Brands Creative Management and United Brands Worldwide have announced they are currently filming "The Billy Robinson Story." It is a true account of four-time Muscle Beach Champion Billy Robinson and his powerful message of courage, faith and determination. The film captures Billy's journey that goes well beyond the underbelly of the extreme body building world and its competitions. UB Worldwide are executive producers.
"The Billy Robinson Project is real! The film goes beyond the chiseled body and into the positive strength of his soul. Billy is an inspiration for all ages and his story teaches life lessons based upon choosing perseverance over adversity" said Barry Kivel, Director of Project Development for United Brands Worldwide.
The film includes gripping scenes of Billy Robinson and other bodybuilders on the Fourth of July 2010 as they 'pump up' in classic style and compete each year for the world renowned title of Mr. & Ms. Muscle Beach at Venice Beach, California, made popular by bodybuilding greats Jack LaLanne, Joe Weider, Arnold Schwarzenegger, Franco Columbu and Lou Ferrigino.
"The Billy Robinson Project brings together a team of passionate and experienced professionals, led by UB Producer Barry Kivel," said Lyle M. Rose, president of United Brands Worldwide. "Billy is an amazing inspiration for so many people. I especially admire Billy's embrace of people from all walks of life, for example his eight years of dedication as an instructor at Yeshiva University High School in Los Angeles," he added.
The production team includes Executive Producer Jason Wisch from 3 Legged Dog Entertainment, Executive Producer Joe Wheatley from Joe Wheatley Productions and Film Advisor Dan Halprin from the L.A. Production Company, Team Halprin.
About Billy Robinson
Billy Robinson is a professional personal trainer and powerful motivator. A dedicated athlete and bodybuilder, Billy has developed into one of the most sought after personal trainers on the West Coast. He has served over 20 years as President and CEO of Billy's Bodies based in Los Angeles, California. Billy has won numerous awards and accolades including four first- place wins in the famous Muscle Beach Bodybuilding Championships in Venice California, in 1997, 2004, 2009 and 2010.
Born and raised in Los Angeles, Billy quickly excelled in sports, and as an actor and musician in the entertainment industry. As a child, Billy participated in inner city youth programs at the University of Southern California (USC). Billy began bodybuilding at the early age of 9, where he worked out regularly in a youth program at the weight training facility at the University of California, Los Angeles (UCLA). He won his first bodybuilding trophy at 11 years old and has been coached in track and field by U.S. Olympic Team member John Carlos and AAU Official Al Karishi. From 1996 to 2004, Billy served eight years as head coach and PE instructor at Yeshiva University High School, Los Angeles (YULA).
Billy Robinson is involved in a number of local charities and is a role model to many youth groups in the Los Angeles community.
Billy's musical talents led him to his first TV appearance on the classic television show "Truth or Consequences" at the tender age of 10. Since then, Billy has appeared as an actor in numerous commercials and television programs. He is also an accomplished music writer with BMI.
For all inquiries regarding Billy Robinson, please contact exclusive agency United Brands Creative Management at info(at)ubworldwide(dot)com .
About United Brands Worldwide
United Brands Worldwide is a U.S. based management firm specializing in creative management and concept marketing. Executives at United Brands Worldwide have produced and developed branded consumer projects for Celine Dion, Elton John, Elizabeth Taylor and others. Mr. Barry Kivel leads current film projects on behalf of United Brands Creative Management.
For information, please visit United Brands online at http://www.UBworldwide.com . Email inquiries to: Info(at)UBworldwide(dot)com. United Brands Creative Management – "Bringing the Pieces Together®."
# # #