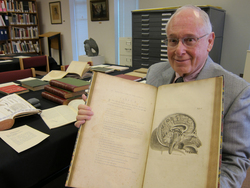 The collection will provide a strong foundation for the knowledge that we have today and will act as a springboard for future research and education
(Vocus) September 23, 2010
The Mackie Family History of Neuroscience Collection provides a unique resource at the University of Calgary that will be available to everyone including students, faculty and the public. The collection broadens the neuroscience educational experience and digitizing the collection enables people around the world to share in the resource.
"This collection will be an invaluable resource for neuroscience research and education at the Hotchkiss Brain Institute and related disciplines in the Faculties of Medicine, Science and Arts," says University of Calgary President Dr. Elizabeth Cannon. "It heightens the status of the University of Calgary as an international centre for neuroscience research and is an excellent addition to our library collection."
The collection includes an original copy of the 1953 Nature paper where Nobel winners James D. Watson and Francis Crick first described the discovery of the double helix structure of DNA. It also includes the rare first neurological text written in the 1600s by Thomas Willis, the man who coined the term neurology and is known as the 'father of neurology'. The collection is valued at approximately $600,000.
Dr. Samuel Weiss, PhD, director of the Hotchkiss Brain Institute points out that it is important for students to understand the progression of thinking and appreciate where current neuroscience research sits in the larger context. "The collection will provide a strong foundation for the knowledge that we have today and will act as a springboard for future research and education," he says.
Students in the new Bachelor of Neuroscience program will immediately benefit from the collection. Vikram Karnik, a third-year student, is very excited about the collection. "For students like me with a passion for neuroscience, having these books on campus is like having a local version of the Louvre or the Met. They are that fascinating," he says.
Dr. Robert Gordon is a retired neurologist who started the collection 40 years ago after acquiring a medical library from a distinguished physician. Gordon says he cannot think of a better place for the collection to be housed than the University of Calgary, "with everything I know there is a very strong interest in the history of neurology, a very strong neurosciences department, there is the Hotchkiss Brain Institute. This is as wonderful a place to have a rare neurology book collection as anyplace in the world."
"It is remarkable to hold in your hands something that is 500 years old, they are so well preserved," says Brenda Mackie, a former co-chair of Reach!, who together with her husband Jamie Mackie gave the gift that was matched by the University Library to purchase the rare collection. "The fact that the knowledge contained within these pages is relevant today is truly remarkable. It means a lot to us that this collection will be used, and valued by so many."
Watch a full video of the release here.
Media Contact:
Jordanna Heller
Media Relations Manager, Faculty of Medicine,
Phone: 403.220.2431 Cell: 403.560.7605
Email: medmedia(at)ucalgary(dot)ca
###