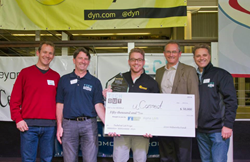 By providing schools with innovative tools and technology to centralize entry-level recruiting under their umbrella, uConnect can help improve student outcomes
Boston, MA & Manchester, NH (PRWEB) October 14, 2014
uConnect secured the top prize of $50,000 at the 2014 TechOut competition earlier this month. TechOut is New Hampshire's largest startup competition, providing half a million dollars in financing over five years to entrepreneurs with the most viable plans to develop and market new technology products or solutions.
uConnect, a technology company based in Manchester and Boston, is dedicated to helping colleges and universities ensure their students get the most from their campus career centers. It aligns entry-level recruiting with higher education to help improve career education, preparation and outcomes for college students and recent graduates.
Research has shown that over 60% of recent 2013 graduates never stepped foot in a career center, leading to a lack of preparation about career opportunities and high unemployment. In response to this trend, uConnect creates custom web and mobile solutions for college and university career centers that are designed to get students excited about the job search process and actively involved in their school's career programming.
"The hundreds of third-party tools trying to solve the college-to-career challenge inherently pull students away from the valuable resources students can find in their school's career center," said uConnect founder David Kozhuk. "By providing schools with innovative tools and technology to centralize entry-level recruiting under their umbrella, uConnect can help improve student outcomes."
uConnect launched with UMass Amherst and Bentley University in the spring of 2013 and has signed several new institutions to their platform including MIT, Boston College and University of Connecticut.
About uConnect
uConnect helps align entry-level recruiting and higher education to improve career education, preparation and outcomes for students. It develops tools and technology to help colleges and universities reach their students with local career content and keep them actively engaged in their career programming. It also helps schools capture critical employment data to serve their students better. Schools like MIT, Boston College and Bentley University are using uConnect to help their students transition into rewarding careers. Visit http://www.gouconnect.com/ to learn more.