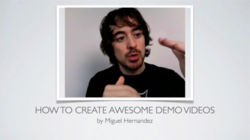 Instructors find that Udemy enables them to scale their expertise: they can earn more in less time and focus on the projects that matter to them most.
San Francisco, CA (PRWEB) May 17, 2012
Udemy.com, the platform that empowers experts around the world to build and share online courses, today announces its top ten earning instructors. The company also releases new data showing a sharp rise in user engagement over the past year.
The top ten earning Udemy instructors, ranging from designers to corporate trainers to computer programmers, brought in a combined $1,654,480 in the past twelve months. They are (in descending order):
1. Infinite Skills instructors: $565,320 in total course sales (top course: "Microsoft Excel for Beginners")
2. Bess Ho: $218,935 (top course: "Learn to Develop an iPhone or iPad App in 4 Weeks")
3. Victor Bastos: $175,168 (top course: "Become a Web Developer from Scratch")
4. Mark Lassoff: $162,051 (top course: "HTML and CSS for Beginners")
5. Zed Shaw: $126,585 (top course: "Learn Python the Hard Way")
6. Miguel Hernandez: $96,508 (top course: "How to Create an Awesome Demo Video for Your Business")
7. Huw Collingbourne: $88,285 (top course: "Ruby Programming for Beginners")
8. Robin Nixon: $86,797 (top course: "HTML5 Beginners Crash Course")
9. Chris Converse: $81,258 (top course: "Creating Responsive Web Design")
10. Eric Ries: $53,573 (top course: "The Lean Startup")
Udemy has also seen user and instructor engagement spike over the past year:

700% user growth in the past 12 months
7,000 lectures added each month by instructors
50% of new students enroll in a course on their first visit
Courses have received an average rating of 4.1 out of 5 stars
To date, Udemy has seen strong adoption in the technology and design fields and is expanding to other verticals, including yoga, parenting and personal finance, encouraging experts from those areas to add to its growing library of online courses.
"The success of Udemy's top instructors proves that there are real financial opportunities for those who can share their expertise online," said Udemy CEO and co-founder Eren Bali. "Instructors find that Udemy enables them to scale their expertise: they can earn more in less time and focus on the projects that matter to them most. For users, Udemy helps broaden their skill set for their current job or even switch career paths entirely."
"Once I finish producing a Udemy course, everything is profit," said Miguel Hernandez, the Grumo Media founder and Udemy instructor whose courses on creating viral videos and animation have brought in $96,508 in 10 months. "Selling courses on Udemy is a product-based business, so it can scale tremendously. The margins are incredible relative to running a service business."
"I will never write another book," said Chris Converse, the expert designer and web developer who, prior to Udemy, created courses on web development for Lynda.com and wrote a series of books on web design. "Udemy is the most profitable thing I've ever done. And, whereas in publishing a book you create content in a bubble, on the Udemy course platform, people raise questions and ideas that I hadn't considered. The discussions are informing how I plan my next courses."
For more details on Miguel Hernandez, Chris Converse and the other top earning Udemy instructors, visit Udemy's blog.
About Udemy
Udemy.com seeks to disrupt and democratize education by empowering anyone to teach and learn online. Hundreds of experts add courses to Udemy every month, including New York Times best-selling authors, CEOs, Ivy League professors and celebrity consultants. These experts teach more than 200,000 students through Udemy's smart online platform that incorporates video, live lectures, supplemental materials and tools to help them interact with students and track their progress. Many instructors are earning a full-time living through Udemy course sales. Founded in February 2010, Udemy is backed by the people who helped create YouTube, Twitter, LinkedIn, Groupon and Yelp.