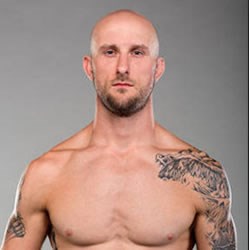 We are excited about the opportunity to sponsor "Bubba" McDaniel for his upcoming UFC Fight," said Robert Cardenas, an attorney at the firm. "Bubba and his agent took the time to personally meet with me in July and both were professional and courteous.
Las Vegas, Nevada (PRWEB) August 29, 2013
The Las Vegas personal injury law firm of Benson, Bertoldo, Baker & Carter is proud to sponsor UFC fighter Robert "Bubba" McDaniel in Wednesday night's fight at Bankers Life Fieldhouse in Indianapolis. McDaniel will battle middleweight Brad Tavares at UFC Fight Night 27 on Fox Sports1. The bout of McDaniel vs. Tavares will be featured on the main card on August 28, 2013.
McDaniel, 30, holds a record of 21-6-0. Originally from Childress, Texas, McDaniel fights out of Greg Jackson's in Albuquerque, New Mexico. His last bout was at The Ultimate Fighter 17 Finale, where he defeated Gilbert Smith on April 13, 2013.
The fight against Tavares is expected to be an exciting matchup. Tavares, who is 10-1, has won three straight fights, all by decision, while McDaniel is the winner of 7 straight, including 5 submissions.
Benson, Bertoldo, Baker & Carter is proud to sponsor McDaniel and is looking forward to the matchup. The fight will be televised on Fox's newest flagship sports network, Fox Sports 1.
About Benson, Bertoldo, Baker & Carter
Benson, Bertoldo, Baker & Carter is a Las Vegas personal injury and workers compensation law firm that has been serving Southern Nevada citizens for more than 25 years. The attorneys represent individuals who have suffered, or whose family members have suffered, serious injuries or death caused by another's negligence, or otherwise were injured or lost their lives on the job. The attorneys seek damages to replace their clients' harms and losses with unending effort. To learn more, or to schedule a free consultation with an experienced attorney at our firm, call 1-888-516-0223.