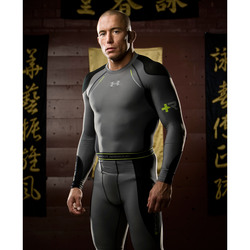 (PRWeb UK) March 26, 2010
BaseLayer a UK authorised distributor of Under Armour is ready to introduce the benefits of its new Recharge range to the MMA community, mixed martial arts fan all over the world for the past month would have seen Georges St. Pierre carrying out super human feats of strength and endurance whilst wearing Under Armour Recharge Recovery tops and l eggings.
With UFC 111 coming up this weekend BaseLayer like Dan Hardy is looking to create its own chapter in history as it is ready to launch Under Armour to the UK mixed martial arts fans. This record sell-out co main event could not have come at a better time as BaseLayer are looking to launch its summer Heat Gear range to the MMA fraternity. The UFC has set up unprecedented press Q&A sessions, several 'ESPN MMA live' shows and three one hour special promotions featuring Dan Hardy and GSP in their build up to the main event so primetime coverage is really going their way.
BaseLayer are behind the Under Armour Recharge range because of its recovery properties, to get the technical stuff out of the way Recharge is so popular because of the fabrication technologies used both pre and post exercise – come again?
Well Recharge uses strategic muscle compression in its design so that muscle repair is maximised when muscles are injured. This allows athletes to train through physical extremes and recover at a faster rate, so if an athlete is crazy enough to train that hard in the first place the option is there to put the body through it all over again sooner than ever before. Under Armour use 'strategic compression' as the engineering platform for all its compression products and is used by many US varsity teams spanning anything from Baseball to Basketball to American Football.
GSP states "it is quite an honour for me to represent Under Armour. I have always appreciated the quality of their products, and to be partners with them is a dream come true". BaseLayer would agree as MMA is looking to sweep the nation they are now ready to provide the training gear that will make it happen. Michael Bisping was the first to pave the way, now there are many UK fighters including Dan Hardy, Paul Daley and The Ultimate Fighter Season 9 winners Ross Pearson and James Wilks all ready to cause upsets and take the fastest growing global sport to the next level.
With dedication to training being an absolute must for any mixed martial arts fighter BaseLayer are proud to enhance this fierce training ethic with a branded sports clothing range tough enough to get the job done.
Visit BaseLayer and find how Under Armour Recharge Compression can help you.
###