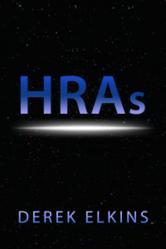 Holmen, Wisconsin (PRWEB) February 28, 2013
Bard and Book Publishing announces the release of Derek Elkins' "HRAs". Elkins has become a popular Bard and Book author since winning first place in Athanatos Christian Ministries' 2012 Novel Contest for his book "Life Unworthy of Life".
HRAs takes a humorous look at what a town experiences when a UFO visits them. Could this be an encounter of some supernatural or otherworldly kind?
A flying, pulsating, multi-colored object is spotted along the skies surrounding the small town of Farnoth. The lives of a deputy, town drunk, a roaming crypto zoologist and two teenage boys will never be the same.
HRAs is available on Amazon.com for the Kindle and is also available for download on Smashwords.
Derek Elkins has authored several other books including "Bedlam's Door", "Three Conversations", "The Trouble With Bricks", and "Layover". You can read more about these books or find out how to purchase by visiting the Bard and Book online community.