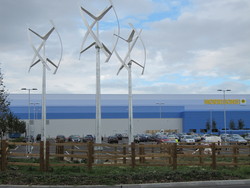 New York, NY (PRWEB) March 2, 2010
Urban Green Energy (UGE) is proud to announce it has been approved by GE Money to offer consumer financing under the GEOSmart program. With a comprehensive range of deferred interest and low interest options, anyone will be able to generate clean energy using UGE's Vertical Axis Wind Turbines (VAWTs), on approved credit.
Although wind energy has always been the most cost-efficient form of distributed clean power, customers have historically found the upfront cost of purchase and installation to be prohibitive. According to Nick Blitterswyk, CEO of UGE, "financing makes our products more affordable than ever. In certain states, our largest turbine, the UGE-4K, can cost as little as $340 per month installed and provide enough energy for an average American home. After just a few years the turbine cost will be paid in full, resulting in free, 100% clean energy for the rest of the turbine's 20 year life." By allowing the turbines to create energy savings before having to be fully paid off, financing plans can have an immediate offset effect on the overall cost. UGE's smaller units can cost less than $200 per month.
The GEOSmart program allows customers to purchase the turbine that will work best for them, regardless of their energy needs. For example, the 4kW VAWT can generate enough electricity to power the average American home. As Takayuki Koizumi, a manager at UGE, pointed out, "when choosing a renewable energy product you want to make sure it is large enough to make a real difference. Now customers can afford properly scaled turbines without 'breaking the bank'."
To find out more about Urban Green Energy's products visit its website at http://www.urbangreenenergy.com.
About Urban Green Energy
Urban Green Energy is a world leader in small wind turbine technology. Visit http://www.urbangreenenergy.com today to see how UGE can help you save money and live a greener lifestyle.
# # #