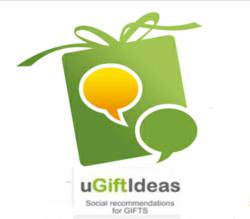 uGiftIdeas.com brings social recommendations to gift giving with a targeted collaborative filtering platform.
NASHUA, New Hampshire, (PRWEB) April 15, 2013
uGiftIdeas.com this week announces the launch of its new gift website, based on a social recommendation and discovery platform for gift-finding designed to bring the gifting experience into the 21st century.
More than a year in the planning and beta, uGiftIdeas.com combines several social recommendation technologies to create a hub for gift shoppers looking for desirable gift ideas. The underlying concepts adopted by uGiftIdeas.com are similar to other social recommendation sites such as Yelp for restaurant recommendations, TripAdvisor for vacation and hotel recommendations, and Netflix for movie recommendations.
uGiftIdeas.com's social recommendation platform is uniquely focused and optimized for gift shopping to help people easily find the best gift ideas for men, women, teens, kids, mom, dad, friends and more.
The key social concepts leveraged by uGiftIdeas.com are collaborative filtering and crowdsourcing. Like other crowdsourcing sites, uGiftIdeas.com compiles gift suggestions from thousands of social networkers of all age groups and applies those metrics to its online shopping site. As a result, the site offers gift buyers a wide variety of creative, inspired and unique gift ideas based on the recommendations of people who would love to be on the receiving end of them.
"uGiftIdeas.com brings social recommendations to gift giving with a targeted collaborative filtering platform," says David Anderson, VP of technology at uGiftIdeas.com. "This platform is focused on gifts and aspects of the gift finding experience that leverages many targeted parameters to generate great gift recommendations.
"The process generates gift ideas for distinct age groups, genders, individuals and couples, and provides a rich collection of individual gift recommendations for specific holidays and celebrations."
Anderson says the team at uGiftIdeas.com is focused on enhancing and optimizing the site's social recommendation platform to identify the most popular gifts among young children, preteens, teenagers, young adults, women and men, some of which are so unique most gift buyers won't easily find them anywhere else. The site further identifies popular gifts for couples celebrating their wedding, anniversary, or the birth of a baby, as well as singles celebrating their graduation, new home purchase, and other milestone events.
uGiftIdeas.com offers event and holiday-specific gift suggestions for every age group including Christmas, Mother's Day, Valentine's Day, birthdays, graduation, and even Boss's Day. Gift suggestions are further categorized "for him," or "for her," making the task of browsing and selecting easy and enjoyable – and that's just scratching the surface."
In the spirit of its social recommendation platform, uGiftIdeas.com is all about innovation, collaboration, sharing and discovery, Anderson says. Website shoppers and visitors are encouraged to invite friends and family to share their favorite gift ideas; the more people contributing gift ideas and preferences, the more comprehensive the site's selection becomes. The result is a one-stop gift site that offers a great selection of "perfect" gifts for everyone on the gift-giver's list, alleviating doubts over appropriate choices and making shopping for gifts a real pleasure.
In addition, uGiftIdeas.com has combined the social "Like" and "Add to List" buttons. Site visitors who find something they like on uGiftIdeas.com can add that gift idea to their own wish list. Browsers can also discover other gift ideas that people with similar tastes have liked. This provides a new way for shoppers to discover great gifts and maintain a wish list for themselves. Wish lists can be shared with friends and family, gift recipients can have a voice in the items they'd like to receive, and shoppers can rest assured they're selecting something that their gift recipient will enjoy.
uGiftIdeas.com offers everything from great message tee shirts to photo equipment, sports and outdoor gear, romantic gifts like jewelry, flowers and wine, and much more.
For the hard-to-buy-for, uGiftIdeas.com offers creative options like "experience gifts" that deliver on a fantasy or take a hobby to a new dimension. For instance, an opportunity to drive or ride shotgun in a real stock car with a professional race car driver at the wheel, or a whale spotting excursion off the Pacific Northwest Coast. Experience gifts include dinner cruises, hang gliding or paragliding day trips, food and wine tours, flight lessons, fly fishing adventures and much more.
The idea behind uGiftIdeas.com is to help people find that special gift every time for every recipient on their gift list. No more wasting money on impractical or unwelcome presents that are relegated to a closet or kitchen drawer and forgotten. uGiftIdeas.com has something for everyone, guaranteed to be enjoyed and treasured.
For more information, visit the uGiftIdeas.com website and share favorite gift ideas from anywhere on the web. Retailers can send an email to sales(at)uGiftIdeas(dot)com for information on applying for a merchant account.
###