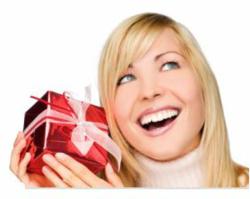 The Q&A service is just one more opportunity to bring the social recommendation concept to gift giving with a targeted discovery platform.
Nashua, New Hampshire (PRWEB) May 06, 2013
uGiftIdeas.com has announced the addition of an interactive Q&A service to its recommendation and discovery gift giving website. The Q&A section allows visitors to request advice for finding a great gift, or to submit advice on their own gift giving experiences.
Visitors to the uGiftIdeas.com website can go to the Q&A page and ask for recommendations on gift selections for any occasion or any gift recipient. Whether they're hoping to find the perfect Mother's Day gift, an appropriate anniversary gift, a birthday gift, or resolve any gift giving dilemma, the uGiftIdeas.com Q&A section is meant to be an oasis of answers for gift buyers looking for advice from other gift givers.
In turn, uGiftIdeas.com visitors can also respond to gift buyers' questions with suggestions and insight on gifts. If someone is looking for a unique gift for Mom this year, he or she may be delighted to read the responses of others who have discovered some great gifts that aren't usually associated with moms or Mother's Day.
uGiftIdeas.com's Q&A service will come in handy for all gift givers who need to find something special that will be appreciated by a teen, parents, grandparents, a girlfriend or boyfriend, even a coworker or boss. The goal is to stoke the creative genius of successful gift-givers whose know-how can help guys who don't have a clue about what to buy for their girlfriends, or women who are equally confused over the best gift for their boyfriends.
"This is the perfect service addition for uGiftIdeas.com's social-recommendation platform, since it is all about getting visitors to our website to interact over something as fun as selecting a great gift," says David Anderson, VP of technology at uGiftIdeas.com. "uGiftIdeas.com is focused on creating a hub of social gift recommendations to help people find unique gift ideas for distinct age groups, genders, and relationships.
"The uGiftIdeas.com's Q&A service is just one more opportunity to bring the social recommendation concept to gift giving with a targeted discovery platform focused on gifts."
Visitors are invited to return to the site to ask questions and add comments as often as they like; the more questions asked and answers left, the better the gift-giving experience is for everyone.
For more information, visit the uGiftIdeas.com website to discover and share unique gift ideas from anywhere on the web. Retailers can send an email to sales[at]uGiftIdeas[dot]com for information on applying for a merchant account.
About uGiftIdeas.com:
uGiftIdeas.com is a social gift recommendation platform and a curated marketplace for unique products and gift ideas. uGiftIdeas.com combines a variety of social recommendation technologies to create a hub for gift shoppers looking for unique gift ideas.
The underlying concepts adopted by uGiftIdeas.com – collaborative filtering and crowdsourcing - are similar to other social recommendation sites, such as Yelp for restaurant recommendations, TripAdvisor for vacation and hotel recommendations, and Netflix for movie recommendations. However, uGiftIdeas.com's social recommendation platform is uniquely focused and optimized for gift shopping to help people easily find the best gift ideas for men, women, teens, kids, mom, dad, friends and more.
uGiftIdeas.com offers gift suggestions for all age groups, for every event and holiday including Christmas, Mother's Day, Father's Day, Valentine's Day, anniversaries, birthdays, graduations, and even Boss's Day. Gift suggestions are further categorized "for him" or "for her," making the task of browsing and selecting easy and enjoyable – and that's just scratching the surface. uGiftIdeas.com helps people find that special gift every time for every recipient on their gift list. No more wasting money on impractical or unwelcome presents that are relegated to a closet or kitchen drawer and forgotten. uGiftIdeas.com has something unique for everyone, guaranteed to be enjoyed and treasured.
###