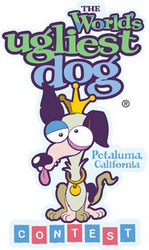 "Between the dogs and the celebrities, it's really become a star-studded event."
Petaluma, CA (PRWEB) June 21, 2010
(PRWEB) June 21, 2010 -- With the World's Ugliest Dog ® Contest only days away, more dogs and more celebrities than ever before are coming to participate in this granddaddy of events set for Friday, June 25, 2010 in Petaluma, California at the Sonoma-Marin Fair. More than 25 dogs with names like Gizmo, Handsome Hector, Monkey Man, Rocco, Egar, and Icky are coming to claim the trophy. And Hollywood celebrities are flying in to judge and emcee.
This year's event will have four judges. Celebrity Vet Karen "Doc" Halligan, Lead Singer for Vertical Horizon Matt Scannell, and That 70's Show Television Star Christina Moore will join Sonoma-Marin Fair Board Member Brian Sobel. Actor and Comic Jon Reep will emcee.
"It's crazy how excited everyone is to participate. It's really become a star-studded event and that's not even counting the world famous dogs entered in the World's Ugliest Dog ® Contest," said Contest Organizer Vicki DeArmon.
The newest judge to be added is Christina Moore who played the less than virtuous sister on the hugely popular That 70's Show and is starring in the new series HawthoRNe debuting this June on TNT. Matt Scannell is the lead singer for the band Vertical Horizon. The band just released its sixth album Burning The Days.
Karen "Doc" Halligan is a celebrity vet who has appeared on Animal Rescue 911, Dog Tales, Groomer Has It, and Animal Planet and is developing her own syndicated show. Karen is also the author of the book, What Every Pet Owner Should Know: Prescriptions for Happy, Healthy Cats and Dogs. Committed to animal welfare and pet-owner education, Halligan will perform the Vet Check of all the World's Ugliest Dog ® Contestants at 4:30 pm prior to the show.
Emcee Jon Reep is an actor and comic. He's played the crazy farmer "Raymus" in the movie Harold and Kumar Escape from Guantanamo Bay, and the dim-witted cop "Gerald Bob" from the ABC Sitcom Rodney. Most people probably know him as Dodge Truck's popular "Hemi guy"; who leans out of a beat-up car and utters the now famous line: "That thing gotta Hemi?" Reep also won Season 5 of Last Comic Standing on NBC and has appeared on numerous comedy shows.
Model Alison Levie will be featured in the entertaining Ugly is the New Beautiful Fashion Show that happens during the judging breaks at the World's Ugliest Dog ® Contest. Levie recently appeared as a contestant on America's Next Top Model and is Miss Sonoma County.
The World's Ugliest Dog ® Contest is produced by the Sonoma-Marin Fair, June 23 through 27 at the Petaluma Fairgrounds in Northern California. To learn more about the World's Ugliest Dog ® Contest, visit http://www.worldsugliestdogcontest.org. This contest is sponsored by House Of Dog.
###