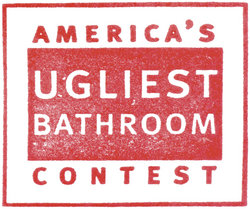 Ugly bathrooms are a competitive category. Past winners included a 1960s lava-rock-motif bathroom and a hippie bathroom.
Piscataway, NJ (PRWEB) July 19, 2010
Do you suffer from Ugly Bathroom Disorder? Symptoms may be mild or severe, ranging from nicknames your friends give your bathroom to the pained expression on the face of your chic mother-in-law every time she visits.
American Standard can help. With the re-launch of its popular America's Ugliest Bathroom Contest on its Facebook page, Facebook.com/AmericanStandardPlumbing, American Standard is offering a new bathroom worth $10,000 to the bathroom judged to be the ugliest from online voters. The winner will choose a look from among four American Standard complete bathroom collections that include furniture, as well as WaterSense® labeled toilets, faucets and showerheads.
"Ugly bathrooms are a competitive category" acknowledged Jeannette Long, general manager of e-commerce and marketing for American Standard Brands, who has run the American Standard® America's Ugliest Bathroom contest since its inception eight years ago. Past winners included a 1960s lava-rock-motif bathroom and a hippie bathroom.
Entries will be accepted on Facebook between June 16, 2010, and August 20, 2010. To enter, homeowners need to give their entry a title (if their friends and family haven't already done so.) Entrants must also answer two questions and write an essay in under 100 words about what makes their bathroom so ugly and how such a masterpiece ended up in their home. Finally, a minimum of two images with titles and captions must be uploaded.
The winner will be selected through a public voting period taking place between August 21, 2010 and September 10, 2010, with one vote per person. The winner, in all his or her ugly bathroom glory, will be announced on the American Standard Facebook page on Monday, September 13, 2010. The winner's bathroom project must be completed during the calendar year 2011.
The winner will choose from among four striking bathroom collections from American Standard: Studio, Tropic, Town Square or the Standard Collection:

Studio Collection: Characterized by bold, clean lines, the American Standard Studio bath furniture collection's style is simple and geometric, highlighted by a mixture of wood, metal and glass to bring depth and beauty to each piece.
Tropic Collection: Chic, smaller fixture shapes and contemporary furniture with playful, casual details come together in the Tropic collection from American Standard. Rattan-pattern details in the richly finished wood cabinets and clean contemporary lines in the sinks, toilets and faucets combine to create a versatile bath collection.
Town Square: The ultimate in mix and match, the American Standard Town Square collection has more than 20 coordinated pieces in classic Americana shapes and styles. Town Square features a full palette of mistake-proof design options guaranteed to enhance your bathroom's decor.
Boulevard Collection: Designed with an uptown attitude, the stately Boulevard collection brings mid-century modern flair to any bathroom decor. Boulevard includes an elegant one-piece toilet inspired by furniture design, as well as a variety of sinks that offer unique flexibility in design. An optional wood finish toilet seat adds a stylish accent to the bath or powder room.
"American Standard is constantly looking to solve homeowners' problems in the bathroom in resourceful and surprising ways," Long said. "We want to show how we can affordably and sustainably help make life a little more beautiful."
For more information on America's Ugliest Bathroom Contest, visit Facebook.com/AmericanStandardPlumbing. For more information on American Standard complete bathroom collections, visit http://www.americanstandard.com or call (800) 899-2614.
ABOUT AMERICAN STANDARD BRANDS
American Standard Brands is a leading North American manufacturer of a wide range of high-quality kitchen and bath products, including faucets, fixtures, furniture, vitreous china fixtures, cast iron sinks, whirlpool tubs and other related products. The company currently serves both the residential and commercial markets; employs more than 5,000 people in the United States, Canada and Mexico; and markets products under the American Standard®, Crane®, Eljer®, Porcher®, JADO®, and Fiat® brands. American Standard Brands is an affiliated portfolio company of Sun Capital Partners.
For more information:
Nora DePalma
O'Reilly/DePalma for American Standard
(770) 772-4726
###