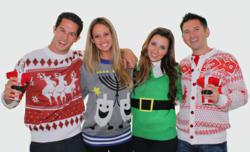 "This is a seasonal business, but for us, it's a year around business. We will start our 2013 design process in January," Mendelsohn stated.
San Diego, California (PRWEB) December 10, 2012
Tipsy Elves, home to one of the holiday season's favorite fashion statements, the Ugly Christmas Sweater, has announced its latest donation campaign. The "$1 for 1 Like" campaign, currently running on Facebook, is designed to benefit Children of Shelter and other charitable organizations that serve children in need. Here's how it works: For every "Like" the Tipsy Elves Facebook page receives between now and Christmas, the sweater company will donate one dollar's worth of warm winter clothing and other in-kind gifts to the charities. The Tipsy Elves hope to attract 50,000 Likes and have promised that, if they do, they will add an additional $10,000 worth of merchandise to their donation, magically turning that $50,000 into $60,000 worth of Christmas goodies to brighten the Christmases of some very lucky children.
Tipsy Elves, known for its extensive collection of funny Christmas sweaters, has a wide variety of almost-cultic holiday designs to choose from. Some of the company's new designs for 2012 include their Candy Cane Vest, their Yellow Snow Sweater, and a revamped version of their ever-popular Reindeer Double Date Ski Cardigan. Also new this year are their children and dog elf sweaters, and for anyone looking for a truly memorable way to accessorize their favorite ugly Christmas sweater, the Elves are featuring their new Humping Reindeer Beanie and Humping Reindeer Scarf.
In keeping with the spirit of the season – and the spirit of giving that the company is displaying through its generous Facebook donation campaign – Tipsy Elves also has a general sweater donation policy called "Sweaters 4 Sweaters," in which the company donates a portion of the proceeds from every sweater purchase towards providing new sweaters for children in need.
Evan Mendelsohn, the co-founder of the company, says the Elves spend much of their off-season planning for the holidays. "This is a seasonal business, but for us, it's a year around business," Mendelsohn stated. According to Mendelsohn, the design process starts in early January, just weeks after recovering from the busy December month.
Featured last year in an episode of The Today Show, Tipsy Elves is a company whose staff enjoys spreading laughter and fun wherever they go. Anyone who is looking for something fun to buy for this year's gift-giving, something that will pay off twice – first, by putting a smile on the gift recipient's face, and then by putting a twinkle in the eye of the child who will be the beneficiary of the company's donations – will find a wonderful place to do their holiday shopping at TipsyElves.com.
To learn more about the Tipsy Elves donation policy, visit the company's Giving page.