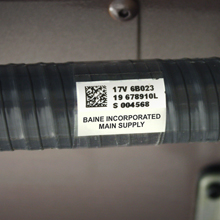 The standards for UID labeling are demanding and complex. Camcode not only provides a wide and growing variety of UID tags, but also provides UID registration services to help make compliance easy.
Cleveland, OH (PRWEB) April 20, 2011
The Camcode Division of Horizons Incorporated has added two new UID labels to its line of barcode solutions designed for compliance with item unique identification (IUID or UID) requirements.
"The standards for UID labeling, such as the Department of Defense's MIL-STD-130, are demanding and complex," said Joe Brunemann, Vice President of Marketing for Camcode. "Equipment manufacturers often come to us unsure about how to best achieve compliance. We not only provide a wide and growing variety of UID tags, but Camcode also provides UID registration and installation services to help make compliance easy."
The new UID label designs introduced by Camcode include:

A Metalphoto® with Teflon® UID Label that's durable enough to withstand applications that require resistance to paint, including Chemical Agent Resistant Coating (CARC), or contact with strong acids or caustics.
A Cable UID Label designed for use on cable or hose applications requiring a durable linear or UID barcode.
These two new UID tag options join Camcode's existing line of barcode labels for use in unique item identification, including Metalphoto anodized aluminum UID labels in flexible or rigid designs, Tactical UID Labels with a zero reflection/detection footprint, and SandShield UID Labels for extreme sand and gravel resistance.
ABOUT CAMCODE: Founded in 1979, Camcode is a recognized worldwide leader in the design and manufacture of durable pre-print barcode labels, such as asset tags and UID labels for asset tracking and unique identification (UID) applications. Camcode's asset tags improve the efficiency of asset tracking systems by eliminating errors caused during manual data collection and increasing data acquisition speed. Camcode's Metalphoto® anodized aluminum bar code labels, premium plastic label constructions, and proprietary coating technologies satisfy the most demanding applications. For more information, visit http://www.camcode.com or call 800-627-3917.
Metalphoto® is a registered trademark of Horizons Incorporated.
# # #