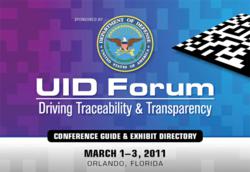 Camcode's UID labels and services are so critical for any military contractor.
Cleveland, OH (PRWEB) March 03, 2011
The Camcode Division of Horizons Incorporated, a global leader in bar code solutions for item unique identification (UID) applications, will exhibit at the U.S. Department of Defense (DoD)-sponsored UID Forum from March 1-3, 2011 in Orlando, Fla.
This event will draw managers and other key personnel from DoD military programs and military contractor organizations, with a goal of providing guidance for successful implementation of UID programs to ensure compliance with MIL-STD-130. Camcode's UID labels and UID installation and registration services are critical to achieving hassle-free UID compliance.
"The Department of Defense estimates that only 10 percent of military contractors fully meet the requirements of MIL-STD-130 at this time," said Jon Keserich, VP of Sales for Camcode. "The standard is complex, and the steps required to achieve compliance are time-consuming. That's why Camcode's UID labels and services are so critical for any military contractor. We have the expertise to get them compliant quickly and easily, from proper UID label design and material selection, to UID label installation and registration."
Camcode will also debut a new product for laser users at the UID Forum. New DuraBlack™ is a CO2 laser-markable aluminum that is outdoor durable, resistant to chemicals and sand, and easy to mark. Samples of the new DuraBlack product will be on hand at Camcode's booth #325.
Camcode's experience in military labeling dates back to the 1950s, when the U.S. Navy began using Metalphoto® anodized aluminum labels and data plates (from Camcode's parent Horizons Inc.) on its vessels. Today, Camcode is the most experienced label provider serving the UID market, with UID tags to satisfy even tactical applications with a zero-reflection requirement and applications requiring extreme sand and gravel resistance.
ABOUT CAMCODE
Founded in 1979, Camcode is a recognized worldwide leader in the design and manufacture of durable pre-print bar code labels for asset tracking and unique identification (UID) applications. Camcode's asset tags improve the efficiency of asset tracking systems by eliminating errors caused during manual data collection and increasing data acquisition speed. Camcode's Metalphoto® anodized aluminum bar code labels, premium plastic label constructions, and proprietary coating technologies satisfy the most demanding applications. For more information, See our UID labels and solutions online at http://www.camcode.com or call 800-627-3917.
# # #