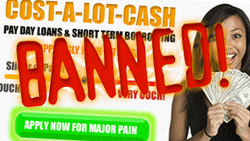 ...they should have gone further and called on other brands in the personal financial comparison space who continue to make money at their customer's expense by promoting these products alongside normal personal finance products
(PRWEB UK) 28 May 2013
A new study released from Citizens Advice's payday loan tracker reveals "damning evidence of an industry which is clearly off the rails," according to a spokesperson for compareandsave.com, leading UK personal finance website.
This after findings released today by UK Citizen's Advice demonstrated evidence of numerous failings on the part of payday loans operators. Released only 12 weeks after the OFT's own investigation started, the report offers insights into the treatment of over 1800 payday customers between 26th November 2012 and 13th March 2013, and offers a window onto the practice of payday operators and impact this has on their customers.
Key findings from the report include...
> 7 in 10 payday customers were pressured to extend their loans
> The majority (12 out of 14) of promises to 'treat customers fairly' were broken
> 3 out of 4 people struggled to repay their payday loan
> 84% claim lenders reneged on offers to freeze interest rates or charges
...but the report also cast a spotlight on major failing by some payday operators, including...
> Over half of the loan applicants (58%) received no warning that payday loans should not be used for long-term borrowing
> 87% failing to request evidence the applicant could afford to repay the loan
> 95% failed to check whether customers repayment issues could afford to pay back the loan if extended.
Citizens Advice Chief Executive Gillian Guy said:
"The payday loan industry is out of control and is acting as a law unto itself. It has showed a complete disregard for its customers. Many have been driven into debt by irresponsible lending and their debts ballooned as lenders put pressure on them to extend the loans."
A spokesperson for compareandsave.com added:
"Citizen's Advice are not simply highlighting a couple of one off's here. The failings Citizen's Advice show appear to be pervasive amongst alarmingly high numbers customers.
It's obvious why they're calling for the OFT to act, but that will take time. We think they should have gone further and called on other brands in the personal financial comparison space who continue to make money at their customer's expense by promoting these products alongside normal personal finance products like credit cards and bank accounts to stop immediately."