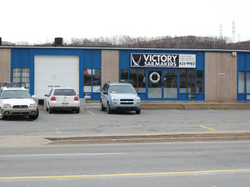 I have worked closely with countless customers, boat owners and sailing pros to assist their programs. I work with racers and cruisers so that their aspirations are reached successfully and within budget
Bronx, NY (PRWEB) May 1, 2008
UK-Halsey International is happy to announce the latest addition to the group. Victory Sailmakers in Halifax, Nova Scotia has just signed a licensing agreement to become UK-Halsey Maritimes. The loft was founded in 1995 by Erik and Angela Koppemaes. The loft is the only full production and service sail loft east of Toronto in Canada.
Erik started his sailmaking career in Southern California before joining the North Sails production facility in Milford, Connecticut. From there he joined Doyle Sailmakers in Marblehead to head up their Research and Development in One-Design sails. After a leave of absence to do the Canadian Olympic Trials, Erik moved back to Bedford, Nova Scotia to start Victory Sailmakers. Thirteen years later, Victory Sailmakers grew into a strong business that has become an integral part of the sailing community in the Atlantic Provinces through meticulous attention to product detail, customer service and support of local regattas through sponsorship. "I have worked closely with countless customers, boat owners and sailing pros to assist their programs. I work with racers and cruisers so that their aspirations are reached successfully and within budget," said Erik.
"Many of our customers are looking for the latest in technology and by joining the UK-Halsey group I will be able offer MatriX and Tape-Drive sails, which are the latest and most durable string sails on the market. Being able to buy sails from other UK-Halsey lofts will free me from the production floor so that I can spend more time helping my customers, while knowing that the sails I'm delivering are as good or better than anything I made in my own loft," said Koppernaes.
Koppernaes has an extensive racing background that includes three Olympic Campaigns in 470's and Solings along with National Championships in the Cadet, Laser 2, Etchells, and Soling classes and second-place finishes in the Etchells Worlds and NA's, J/24 Canadians, Melges 24 US Champs and York Cup Match Racing. This year Erik plans is to race in the J/24 US Nationals, J-22 Worlds and Shark Worlds.
Stop by the loft or give Erik a call to learn about the new step forward. The phone number of the loft is: 902-835-9982.
###