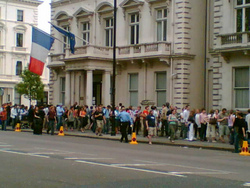 This is a great opportunity for young people looking for a job within the entertainment industry, and certainly a great initiative from Disneyland Paris to create jobs and help the Eurozone get out of the crisis
(PRWeb UK) November 5, 2010
Disneyland Paris hosted major recruitment events in London and Cardiff, looking to interview more than 1000 people interested in working at their themed Park.
During these events, potential candidates were able to find out more about all the job opportunities the company has and apply for different types of positions (seasonal, short term or permanent). There were a variety of roles to fulfil within different areas such as food and beverage, guest services, attractions and sales.
"This is a great opportunity for young people looking for a job within the entertainment industry, and certainly a great initiative from Disneyland Paris to create jobs and help the Eurozone get out of the crisis" commented UK Knack Group Managing Director.
UK Knack Group has also learned that these two events were the start of a gigantic European recruitment drive intended to fill 6000 job opportunities for next year.
Disneyland Paris has more than 14,000 staff from over 100 countries (nationalities or nations) and employees from Britain are a significant portion of that workforce, being the third highest in number after Italy and France.
"Disneyland Paris offers a really varied career path within a dynamic and unique environment. It is a great opportunity that can't be dismissed" commented the UK Knack Group Managing Director.
UK is the second largest market for Disneyland Paris and that is why recruiting here is so important for the company. They look for candidates of high calibre that believe in their ethos of excellence in service.
About The UK Knack Group
Built on decades of experience the Knack team consists of some of the most experienced professionals in the UK and abroad who have helped thousands of businesses and people to be more successful.
###