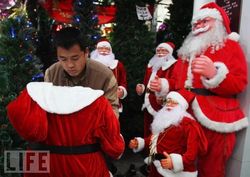 Temporary work is the steppingstone many people need in order to gain experience and be able to progress in the working environment
(PRWeb UK) November 22, 2010
The Recruitment and Employment Confederation has released a report which shows figures that suggest that approximately 22% of bosses will increase the amount of temporary staff on the books within the next three months.
There is an upward trend in both long and short term use of temps, which only confirms that employers believe that turning to flexible resourcing options is the best way of generating economic growth for their companies.
We will feel the full impact of the recently announced Spending Review next year, and not only the employers of the public sector will suffer but also the businesses of the private sector who supply goods and services to the public sector. This explains why employers are cautious about hiring people on a permanent basis, preferring to use temporary staff.
"Temporary work is the steppingstone many people need in order to gain experience and be able to progress in the working environment" commented the Managing Director of UK Knack Group. "This report just shows what is happening right now out there and the difficult situation our economy is going through. However, for people who are out of work due to different reasons, it is a great opportunity to earn some money for the Christmas holidays".
Later, the UK Knack Group Managing Director added: "We welcome any initiatives from the employers to give jobs to people, even if it is on a temporary basis. This only contributes to our recovery".
About The UK Knack Group
Built on decades of experience the Knack team consists of some of the most experienced professionals in the UK and abroad who have helped thousands of businesses and people to be more successful.
Press release distribution by Reputation 24/7. Online PR, Reputation Management and Online Reputation Management. The Uk Knack Group
###