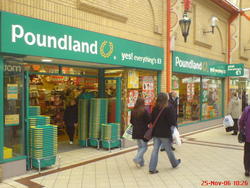 (PRWeb UK) November 29, 2010
Additionally, they plan to launch their website for customer in look for bargains online.
According to the Managing Director of UK Knack Group, this expansion comes with the astounding promise of over 1,000 new jobs for the country. The Managing Director also stated: "This type of super chain was once considered a lower quality store therefore the middle-class and upper-class consumers never took a glance at what they had to offer. But now with the economy being what it is today, there is no shame in trying to shop where money can be saved on the brands the majority of people know and trust. With Poundland, this is possible now."
Poundland has around 300 shops countrywide and despite of the recession and the economic crisis, their profits increased in more than 80% last financial year and their sales were reported to be 29% higher. And all this success comes despite the fact that they do not advertise or invest any money on publicity.
Among their best selling products are the 1.5 kg packs of sugar, Kodak batteries and reading glasses. They are looking to expand the range of their products to include from fancy dresses to homewares items and sell them online within the next two years.
UK Knack Group says that Poundland has taken over sixty former Woolworths stores since January of last year and that it is their plan to open at least 52 new shops within 2011.
About The Uk Knack Group
Built on decades of experience the Knack team consists of some of the most experienced professionals in the UK and abroad who have helped thousands of businesses and people to be more successful.
###