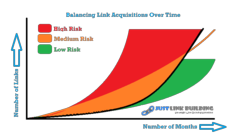 To know where to go with any Link Building Strategy, it is important we learn where a website has been...
Leeds, UK (PRWEB UK) 17 January 2012
Spending any online marketing budget wisely in the current economic climate is something that every business must do! And one simple service on the http://justlinkbuilding.com website has delivered its clientèle in excess of £250,000 in Gross Revenue from online sales during this small Link Building Companies first 6 months of trading. But who do clients have to thank for this terrific Return on Investment (ROI)? No one but themselves.
The reason behind Just Link Buildings rapid success at delivering terrific ROI for its clients is down to the resolution to a common matter within the SEO industry; simplifying process and cutting down on waste through developing dynamic link building capabilities.
Head of Sales at Just Link Building, James Grayson, said; "Working within an industry which sits behind an already niche field that is Natural Search Optimisation means building relationships and finding potential new customers relies on savvy clients rather than shiny sales techniques however, providing a dynamic link building service which delivers results is key to the overall success of our business of delivering targeted search engine rankings for customers websites."
He went on, "We are finding that more and more clients are becoming aware that they might not need a full service Search Engine Optimisation Company and that they can cut down their online marketing spend by cutting back in areas where unrequired specialists are eating up costs, by simply choosing an effective Link Building Service for a reputable company they increase their ROI by cutting down and out wasted time and middle men."
With clients ranging from Local Plumbers and Electricians to National eCommerce Brands, FTSE 250 and Fortune 500 Companies, Web Design and Digital Agencies, SEO Companies and a growing number of direct relationships with Limited Company Directors, the team at JustLinkBuilding.com are looking through 2012 and beyond with hope and anticipation as more and more business-men and women become aware of their niche field, feeling that the future could be bright for this small business to grow; primarily by growing other businesses on-line revenue streams.
Although for many unemployed Brits and cash poor businesses the New Year and January Blues cannot pass any sooner, the current economic despair could be destined to go on long into 2012, where the future is bleak for some small businesses, others are experiencing growth and are now looking to the new financial quarter with open eyes and minds.
Just Link Building are continually adding new link building service and link building training guides to their website so clients can look forward to generating even more revenue through their informed and savvy approach to online marketing for 2012 and long into the future.
Contact Just Link Building – 0113 815 0035 (Mon – Fri 9am-5pm)
[+44 113 815 0035 from Outside UK]
Press Office, Just Link Building, 17 Victoria Tr, Leeds, W.Yorks, LS31BX
eMail: hello(at)justlinkbuilding(dot)com -OR- Click Here - http://justlinkbuilding.com/contact-us/
###