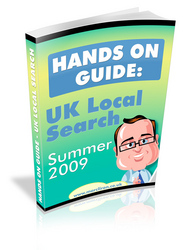 Recent surveys have revealed that as much as 40% of all search queries are for LOCAL products and services etc.
Lincoln, Lincolnshire (PRWeb UK) July 9, 2009
With so many small businesses announcing bankruptcies and layoffs anything they can do to increase sales and lead captures in these tough economic times are proving invaluable.
With the major search engines investing millions of pounds in improving the Local Search experience, gathering new customers from online search results has now reached a major tipping point for local businesses.
With Google UK (google.co.uk) owning about 80% of all UK based search. The recent integration of its Local Business Center listings into the main search results page, is proving a vital new source of additional website traffic and incoming leads by phone for local small businesses.
Known as the Google 10 Pack, local business can now gain a prominent listing and appear in front of local customers searches - at no cost!
"Recent surveys have revealed that as much as 40% of all search queries are for LOCAL products and services etc." Said UK Search Specialist Marc Liron. "People now see the Internet as a credible way to locate local businesses."
Sadly MOST small business owners are failing to take advantage of this in their online marketing, if they even have an active online marketing plan at all!
"I am appalled at just how many UK small businesses are not aware of the major changes happening online, in the important area of local search." said Marc "So I have created a short guide to explain the changes that are happening right now and how to take advantage of them to improve website traffic and telephone leads ."
The FREE UK Local Search guide is available here: UK Local Search Guide
Marc has spent the last 2 years working with small business owners to improve their visibility online. During this time all the major search engines have improved the way a local business can be found, and so it is proving easier to get the prominent listings that a small business owner requires in these tough economic conditions.
Marc has also started a Blog where he is posting articles and tips related to Local Search.
"Much of the advice online is US based and not entirely appropriate for the UK small business owner. I hope to change that with this UK specific Blog" said Marc.
The free Blog is available at: UK Local Search Blog
Marc also plans to publish a book on the subject of UK Local Search (paperback) in late September 2009. ISBN: 978-0-9560941-6-2 Price: £21.95
###