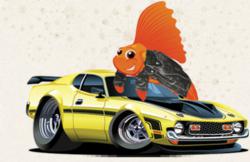 I feel so much optimism for the US, that this is our year to finally climb out of the financial black hole that the recession dumped us in, and I wish I could say the same for the UK.
New York, NY (PRWEB) May 19, 2012
RoadFish.com men's lifestyle and finance magazine today articulated its hope that rising UK mortgage rates is pure speculation, in response to learning that a jump even as small as 20 pounds a month (equivalent to $31 in US) could put more than 100,000 British families in a position where they can no longer afford their mortgages. The continuing Eurozone crisis has taken its toll on families as it is, and further mortgage increases could be the tipping point that would cost folks their homes. Even British estate agents would not welcome such a jump in business, since it would mean displacing so many unfortunate families.
Tammy Hughes of the UK publication Daily Mail reported that a leading British charity recently revealed that over 100,000 people around Great Britain will be susceptible to losing their homes if mortgage payments go up by as little as 20 pounds, or $31 US dollars, per month. A statement made by the Consumer Credit Counseling Service (CCCS) claimed that for families who are already financially stressed by credit card debt, overdue utility bills, and other financial burdens might be pushed to the max with any further mortgage rate increases, causing them to lose their homes. Unfortunately, the Bank of England issued a warning that families should buckle down and get ready to see increases in mortgage rates in the coming months, as UK lenders are dealing with higher borrowing costs that will trickle down to the consumer-level.
Una Farrell, a spokeswoman for CCCS, was quoted in the above-mentioned article as saying, "People are just about hanging on by the skin of their teeth. Thus far we have not had that many repossessions and that is for two reasons: for one, lenders have shown considerable forbearance up until now and two interest rates have stayed low. But wage freezes and higher energy and fuel prices are all just eroding and eating away at peoples ability to keep up with their mortgage repayments. Just a small rise in their repayments could push thousands of people over the edge and ultimately would mean that they lose their homes."
RoadFish.com expressed concern for friends and family living in the UK who may face increased financial struggles in the coming months. RoadFish.com's Senior staff writer is quoted as saying, "It's so unfortunate that as the US sees record-low prices in mortgages, our friends across the pond will be experiencing big spikes in theirs. I feel so much optimism for the US, that this is our year to finally climb out of the financial black hole that the recession dumped us in, and I wish I could say the same for the UK."
Tanya Powley of the Financial Times reported that due to increasing instability in the Eurozone, it is likely that homeowners and borrowers will see even more jumps in mortgage rates in the coming months. Powley's prediction is backed by the Bank of England, whose governor, Mervyn King, warned the UK of the "risk of a storm heading our way from the Continent." The Bank of England stated that elevated funding costs have caused banks to fight for restoration in their margins. Mortgage rates already climbed in April and the beginning of May, and borrowers are paying a higher mortgage rate in mid-May than they were at the start of 2012.
The Eurozone crisis, otherwise known as the European sovereign debt crisis, is being blamed for the probable increase in mortgage rates. The Eurozone, which refers to the "euro area" of 17 European Union member states that collectively use the Euro as their common currency, has been in dire financial straights for going on two years. The ongoing financial hardship has made it difficult for many of the Euro countries to refinance their international debt without the aid of a third party, and debt continues to grow. Currently, the United Kingdom has the highest gross foreign debt of any European country.
RoadFish.com encourages Brits to "hang in there" during the tough financial times. RoadFish.com's Senior staff writer is quoted as saying, "It's a really crappy time for mortgage rates to go up in England, as families are being stretched thin already, but you've got to persevere. Sometimes in the toughest of times, we learn how strong we really are, and what we're truly capable of. Families and individuals all over the US have been doing it for years, and there's encouragement in knowing that no one is alone in this. Everyone is here for each other. Lean on family, lean on friends, and let them lean on you when it's their turn."
The above-mentioned Daily Mail article reported that during the months of January through April 2012, a total of 9,600 home repossessions took place, which is a stable number from 2011. The Daily Mail article gave proof however of the already-rising mortgage rates. Last week, the Yorkshire Building Society increased rates on its two-year fixed loans from 3.24% up to 3.54%. The Daily Mail reported that likewise, ING Direct plans to raise its mortgage rates within the coming week up to 3.49%, from 3.29%.
About RoadFish.com
RoadFish.com is an online men's lifestyle and finance magazine targeted toward men in their 30's and 40's that have already attained a moderate level of success in life, and are striving toward more. It goes over current events of interest to this group, such things as exciting adventures, consumer interests, and the tips on budget-friendly holiday parties as well as ways to make more and save more money. It is a publication owned by Purpose Inc.