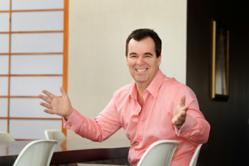 This type of creative thinking helps those who cannot afford to buy or maintain a home, to improve their lives
(PRWEB) November 28, 2012
With creative home ownership strategies being introduced by progressive UK councils, Rick Otton believes that the public is becoming even more aware of the opportunities to buy homes without bank involvement. He has just announced plans to share his own knowledge of non-bank property investment in the UK in 2013.
Creative Home Ownership Strategies in Stoke
"I'm really impressed with the innovative ways that some UK councils, notably Stoke-on-Trent, are approaching property ownership" said Mr Otton. "In this area, where there is a large number of empty and dilapidated homes, the council is working on ways to make it easier for not just move into the area, but to fix up the houses."
For many years Mr Otton has been sharing his strategies on how to buy a house for a pound, and now, on one proposed scheme, homes in Stoke, Staffordshire, may be offered for just a pound in order to breathe new life into crime-ridden areas.
In another initiative, the same council is reviving the 'Kick Start' loan program to help cash-strapped homeowners to carry out major improvements.
"This type of creative thinking helps those who cannot afford to buy or maintain a home, to improve their lives" said Mr Otton. "It raises the morale of the community and injects the pride that comes from home ownership."
Few of the people to whom these programs will apply would not qualify for a bank loan, and, Mr Otton believes, it is the dependence on the banks that puts home ownership out of reach of many UK residents.
More Strategies Coming At Property Investment Bootcamp
At the Rick Otton boot camp next year, even more creative, innovative, non-bank routes to buying and selling homes will be shared by this Australian property investor, known the world over for thinking outside the box.
"I have trained many about getting the most out of the UK property market, and my top students will be at my next UK boot camp, which is being held in April 2013" explained Mr Otton. "They will be able to share, first-hand, how they are implementing my strategies in ways that have changed their lives."
Otton's 2012 UK property investing bootcamp was completely sold out, and pre-registration for the 'Zero-Debt Property Cashflow Conference 2013' 2013 event is open now at RickOtton.co.uk
About Rick Otton
Rick Otton has spent decades making money by snapping up inexpensive real estate and putting it to work building wealth. Now, he's teaching others how to do the same. He is the founder and CEO of We Buy Houses, which operates in the U.S., U.K., Australia and New Zealand putting his strategies to work every day.
Otton received his start in alternative real estate investment in 1991 and within a year acquired 76 properties. In the following years, he made a fortune using his low-risk, high-reward strategies to inexpensively acquire real estate.
Now, Otton shares the wealth by sharing the wisdom, teaching others how to buy and sell real estate without cutting banks and other middlemen in on the deal.
In 2008 Rick revealed his strategies in the United Kingdom and became the creator of 'Houses for a Pound'.
Otton has been featured in a variety of television programs and magazines, including Today Tonight, A Current Affair and Australian Property Investor.
Details of Mr Otton's UK property investment bootcamp including how to pre-register are at RickOtton.co.uk