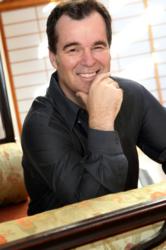 The beauty of my creative no-money-down real estate strategies lies in the fact they are recession proof
(PRWEB) January 17, 2013
Property investment specialist, author and self-made millionaire, Rick Otton, is known in the UK as the creator of 'How To Buy A House for a Pound' strategies. To help shed some light into what realtors call a 'gloomy' UK property market, Mr Otton has announced a three day property investment conference for April.
Responding to a recent article in The Telegraph where real estate agents have forecasted a doom-and-gloom scenario for the property market in 2013, Mr Otton said: "The beauty of my creative no-money-down real estate strategies lies in the fact they are recession proof. Over the years, I've taught countless property investors, even those without any real estate experience, how to generate positive cash flow from day one. You don't need a deposit, stamp duty or bank loan."
In The Telegraph article, one real estate agent predicted a 1% decline in the market while others warned that housing prices in some parts of the country, such as Scotland and the North, would drop by as much as 4%.
"House vendors in the UK are feeling increasingly desperate and resorting to measures such as dramatically dropping their asking price. As they say, desperate times call for desperate measures," Mr Otton said.
"Ironically, despite this situation, many want-to-be buyers are still unable to break into the market usually because they are unable to secure the necessary finance, for whatever reason" continued Mr Otton. "My property investment strategies successfully resolve this impasse and provide a win-win scenario for all parties. However, the techniques I teach are innovative and creative – outside the norm. I call on investors to abandon traditional investment strategies."
UK Property Investment Seminar filling fast
Mr Otton is offering UK residents a special opportunity to learn his creative property investment techniques at a Zero-Debt Property Cashflow Conference to be held from 19-21 April 2013. Last year's event was completely sold out, and numbers for this year's event are filling fast.
"As traditional property investment strategies, such as negative gearing and relying on the banking sector for finance, are failing to weather economic downturns, current and aspiring UK property investors are already filling seats at this event" said Mr Otton. "To avoid the same disappointment as those who missed out on spots in 2012, I would encourage people to register quickly for the conference and secure their place," he said.
"At this special event, participants will be exposed to the creative real estate strategies, techniques and methods I've been successfully sharing with students from different parts of the world for many years now. I am on a personal mission to overhaul the way people buy and sell properties."
To register today for the Zero-Debt Property Cashflow Conference 2013, visit RickOtton.co.uk
About Rick Otton
Rick Otton has spent decades making money by snapping up inexpensive real estate and putting it to work building wealth.
He is the founder and CEO of We Buy Houses, which operates in the U.S., U.K., Australia and New Zealand putting his strategies to work every day.
Otton received his start in alternative real estate investment in 1991 and within a year acquired 76 properties. In the following years, he made a fortune using his low-risk, high-reward strategies to inexpensively acquire real estate.
Now, Otton shares the wealth by sharing the wisdom, teaching others how to buy and sell real estate without cutting banks and other middlemen in on the deal.
In 2008 Rick revealed his strategies in the United Kingdom and became the creator of 'Houses for a Pound'. Otton has been featured in a variety of television programs and magazines.
Details of Mr Otton's UK Zero-Debt Property Cashflow Conference are at RickOtton.co.uk