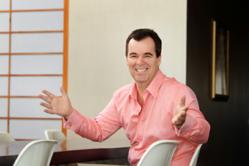 With mental agility and determination, and as little as one pound, it is possible to implement creative real estate strategies to achieve financial success and a stress-free future
(PRWEB) December 11, 2012
London's Daily Telegraph has reported that financial services research has shown that the average UK family needs to earn almost £25,000 a year just to stay afloat. The figures show that this amount is needed to cover necessities such as mortgage or rent repayments, utilities, insurance, food, phone bills, vehicle and transportation costs.
Speaking of the unexpected rush for early bird registration for his April 2013 property investing conference, Rick Otton says that it demonstrates how people, fed up with feeling the pinch, are keen to embrace his unique brand of out-of-the-box property investment strategies.
The internationally renowned businessman and mentor has long been sharing his strategies with property investors on 'how to buy a house for a pound' without having to rely on banks for finance.
"The effects of the global economy are certainly taking a toll. UK families are being forced to forego the little extras in life just to keep their heads above water. During these challenging times, people have to act creatively to turn their pain into profits," Mr Otton said.
Savings dwindle
He said that in the current economic market, most families could not manage to save. This had the disastrous effect of putting property ownership dreams seemingly beyond their reach.
"Most people assume that property investment requires being bankrolled, on top of having to cough up large amounts of personal savings. But nothing could be further from the truth," he said.
"With mental agility and determination, and as little as one pound, it is possible to implement creative real estate strategies to achieve financial success and a stress-free future."
The conference will show delegates alternative strategies for both buying and selling in the current economic environment, including hearing from Mr Otton's past students.
"I can speak for three days on the strategies that I've been using for 30 years, but it is when the conference delegates hear from past and current students that I believe the penny will really drop" said Mr Otton. "Listening to them, and seeing them demonstrate how they have not just bought and sold properties, but how in doing so they have created profitable property investment is truly inspirational."
Early registrations indicate that the Zero-Debt Property Cashflow Conference 2013 (being held 19-21 April 2013) will, like the 2012 event, be sold out well in advance. Registrations can be made at RickOtton.co.uk
About Rick Otton
Rick Otton has spent decades making money by snapping up inexpensive real estate and putting it to work building wealth.
He is the founder and CEO of We Buy Houses, which operates in the U.S., U.K., Australia and New Zealand putting his strategies to work every day.
Otton received his start in alternative real estate investment in 1991 and within a year acquired 76 properties. In the following years, he made a fortune using his low-risk, high-reward strategies to inexpensively acquire real estate.
Now, Otton shares the wealth by sharing the wisdom, teaching others how to buy and sell real estate without cutting banks and other middlemen in on the deal.
In 2008 Rick revealed his strategies in the United Kingdom and became the creator of 'Houses for a Pound'. Otton has been featured in a variety of television programs and magazines.
Details of Mr Otton's UK Zero-Debt Property Cashflow Conference are at RickOtton.co.uk