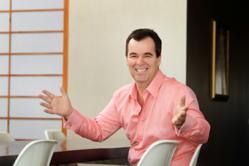 I think we can all agree that times are challenging right now in the UK
(PRWEB) December 05, 2012
Rick Otton, known the world over for his innovative strategies for real estate investment without bank involvement, has just announced that his Zero-Debt Property Cashflow Conference will be held from 19-21 April 2013.
His 2012 event sold out in record time, and his team expects the same for 2013, particularly in the current climate of the UK property market.
"We were really disappointed to have to turn people away this year, so my team is going all out to ensure that as many people as possible know about the 2013 property investment conference well in advance of the close-off date" said Mr Otton.
"Naturally, we will be contacting those who missed out last year, along with the people who have already pre-registered their interest for 2013" Mr Otton explained. "We know that many of these are the friends, families and colleagues of those who have already trained with me, and who have gone on to establish successful property businesses."
One of these former students is Ben Rogers from Kent, who says "Rick is obviously a world expert in his field and he is a pleasure to learn from. A great presenter, a great tutor. Rick is the Godfather of options!"
Mr Otton is well known in the UK for his 'Buy A House For A Pound' strategy, just one example of the property investment advice that he shares to help people to become home-owners without having to meet strict bank requirements.
"I think we can all agree that times are challenging right now in the UK" said Mr Otton. "It is difficult for many to enter a property market that is stagnating because so few people have the deposit or credit history needed to secure a bank loan."
Mr Otton continued "I am going to share with those at the Conference three full days of innovative strategies, tools and techniques that will show them how, by shifting their mindset - and taking the need to kowtow to the banks out of the equation - they can become actively involved in the UK property market."
Registration for the Zero-Debt Property Cashflow Conference 2013 can be made at RickOtton.co.uk
About Rick Otton
Rick Otton has spent decades making money by snapping up inexpensive real estate and putting it to work building wealth. Now, he's teaching others how to do the same. He is the founder and CEO of We Buy Houses, which operates in the U.S., U.K., Australia and New Zealand putting his strategies to work every day.
Otton received his start in alternative real estate investment in 1991 and within a year acquired 76 properties. In the following years, he made a fortune using his low-risk, high-reward strategies to inexpensively acquire real estate.
Now, Otton shares the wealth by sharing the wisdom, teaching others how to buy and sell real estate without cutting banks and other middlemen in on the deal.
In 2008 Rick revealed his strategies in the United Kingdom and became the creator of 'Houses for a Pound'.
Otton has been featured in a variety of television programs and magazines, including Today Tonight, A Current Affair and Australian Property Investor.
Details of Mr Otton's Zero-Debt Property Cashflow Conference 2013 can be found at RickOtton.co.uk