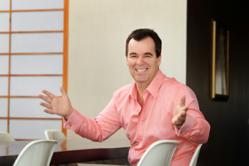 ...their home only needs to drop 5% in value before they are in a negative equity situation
Sydney, Australia (PRWEB) December 06, 2011
In an ambitious move to boost the UK housing lending market, British Prime Minister David Cameron has announced a multi-pronged approach to stimulate the country's real estate market. While the plans have potential, property investment strategist, Rick Otton, has warned, in a recent interview, of the potential for borrowers to find themselves with negative equity in their homes.
The Negative Equity Nightmare
In the world of real estate and mortgages, a negative equity situation arises when the value of a property falls below its outstanding mortgage. According to figures released by the Council of Mortgage Lenders (CML), there are an estimated 827,000 negative cases in the UK (first quarter 2011). Of these, 326,000 or 39%, are first home buyers.
"In allowing buyers to now borrow up to 95% of the value of their new home, the potential for negative equity, in a declining real estate market, becomes very real," said Mr Otton.
Sobering statistics released in a report by HSBC support Mr Otton's caution. It states that official figures showed house prices continued to fall in September 2011, decreasing a further 0.7% in the month. Average fall in prices range from 1.1% in England to a massive 11.6% in Northern Ireland.
"The UK government plans to underwrite part of the risk to lenders, which is likely to stimulate the UK property investment market," said Mr Otton. "However, the people at real risk are the borrowers - those who take out a mortgage now, and find that a year or two down the track, their home value has decreased."
"If, for any number of reasons, for example job loss, poor health, reduced income, they are unable to meet their mortgage obligations and have to sell up, they could find themselves with an ongoing debt," explained Mr Otton. "If they have borrowed 95% of the purchase price, their home only needs to drop 5% in value before they are in a negative equity situation."
Creative Alternatives
Rick Otton teaches high level rent to buy strategies that eliminate the negative equity risk in a falling market.
"Any situation where a purchaser is at the mercy of a powerful third party, in this case, the lenders, they begin to lose their purchasing power," continued Rick. "I am showing my students how, by thinking more creatively, they can become property owners without involving the banks, and without using their own cash."
By rethinking the whole property purchase process, and using innovative and proven strategies, Mr Otton has shown that home ownership without a mortgage is a very real possibility.
Stimulation To Building Industry
Mr Otton welcomes the second part of the announcement by the UK Prime Minister, believing that it will stimulate the ailing property market.
"Mr Cameron also announced the creation of a £400 million fund to provide grants to builders to get stalled projects under way, on land currently considered 'uneconomic'. By making first-home buyers the targets in this new scheme, more opportunities for my students to buy a property, using my property investment strategies, will be created," he said.
More about Rick Otton's UK property investment strategies are available at rickotton.co.uk
About Rick Otton
Entrepreneur, Author, Speaker and Property Coach
Rick Otton is a self-made multi-millionaire and real estate consumer advocate, property investor and business owner.
He is the founder and director of We Buy Houses Pty Ltd, a leading property enterprise which has successfully expanded into the international markets of Australia, United Kingdom, New Zealand and USA.
In 1991, Rick Otton uncovered an innovative strategy of buying and selling real estate and went on to amass a portfolio of 76 properties in his first 12 months of investing. Rick buys, sells and trades property, using little or none of his own money, and structures transactions to create positive cash flow.
Since 2001, Rick has taught nationally and internationally over 35,000 students how to buy, sell and trade residential property without getting bank loans or acquiring debt, using little cash and minimising risk.
Many of Rick's students have been able to create wealth, buy their first home, restructure a negatively geared property to make it cash flow positive and build their property portfolio year after year.
Rick's mission is to transform the way people buy and sell property - to empower others with the knowledge there is another way. He regularly meets with leading government officials who seek his advice on solving the housing affordability crisis.
His philosophy has been highlighted in various Australian TV shows. He appeared in the ABC documentary 'Reality Bites' as well as 'Today Tonight' and 'Hot Property'.
Rick has also been profiled in numerous national and international magazines and books as he shows everyday people how to create wealth in real estate, without bank loans or saving large deposits.
For more about Rick Otton, visit rickotton.co.uk
###