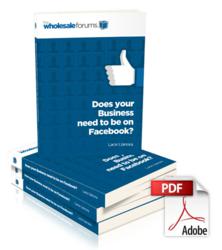 Wholesalers just don't grasp the value of social media. We think this eBook & networking directories will help drive social media adoption.
London, UK (PRWEB UK) 5 March 2012
The UK's leading online B2B networking community, The Wholesale Forums, recently launched a Facebook guide aimed towards wholesalers, importers, retailers, and service providers. Does your Business Need to be on Facebook? explains why businesses should harness the power of social media as an essential marketing channel.
The Wholesale Forums CEO, Anthony Trollope shares "UK Wholesalers are too stuck in their conventional ways and just don't grasp social media. Even in 2012 with the tsunami wave of social media breaking everywhere, Facebook remains one of the most underutilised marketing channels currently available."
Key takeaways from the exhaustive guide include how to promote your eBay listings on Facebook, using Facebook to discover and connect with customers, and bonus tips on optimising and getting the most out of your Facebook Page.
Author of the eBook and Social Media Manager for The Wholesale Forums, Lace Llanora shares "We believe everyone has the potential to capture an audience in their respective niche and engage with them effectively. This ebook is for anyone wanting to understand how Facebook works as a marketing medium and how they can use it effectively to promote their products to an audience potential of over 800 million Facebook users."
The eBook which launched in January 2012 has already reached over 1,000 downloads and has been featured on influential sites and communities such as Tamebay (the UK's leading eBay & E-Commerce blog) and Salehoo (a leading wholesale directory), as well as top service and merchant sites Parcel2Go and Simply Wholesale. Does your Business Need to be on Facebook? is available free to registered members of The Wholesale Forums (membership is also free).
In conjunction with the eBook's successful launch, The Wholesale Forums also developed two social media hubs for Facebook and Twitter, encouraging wholesale traders, retailers, dropshippers, and buyers to share, connect, and engage via these social platforms.
Commenting on the launch of the social media directories Anthony Trollope shared "It has always been our goal to bring wholesale suppliers and retailers closer together online and social media should be part of any company's online marketing mix. We think these hubs will help drive social media adoption and give useful publicity to company's starting or growing their social media presence."
About The Wholesale Forums
TheWholesaleForums.co.uk provides free business support, trading advice and networking opportunities to over 100,000 trade buyers and suppliers from across the UK and Central Europe.
Founded in July 2004, TWF is well established as the UK's leading independent B2B community. TWF features discussion forums, product and supplier sources, networking directories and a marketplace for buyers and suppliers to trade goods and services.