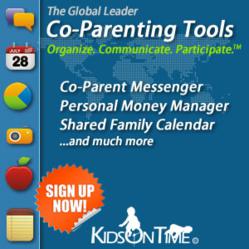 ...divorce rate in Brittan was the highest in the European Union, the expansion was vital.
Portland Maine (PRWEB) February 06, 2013
Kids On Time enthusiastically announced today the expansion of their co-parenting tools software company to include a presence in East Sussex, UK. Due to the findings of a recent study that showed that the divorce rate in Britain was the highest in the European Union, the expansion was vital.
Negotiations have been under way for some time, and were finalized this week. "We are so pleased to have partnered with Suzy Miller, creator of divorce in a box" states Kids On Time President Anne Sleeman. "We have been working on fostering the right relationship with the right person to bring the Kids On Time message and suite of products to the UK. When we met Suzy, it was instantly a fit. We knew that we had found the perfect person to be the Kids on Time UK representative. Suzy brings an extensive working knowledge of the industry, countless contacts, she is smart, trustworthy, and diligent, not to mention, she has a great sense of humor. We really couldn't be more excited."
Immediately out of the gate, Suzy Miller engaged Families Need Fathers to be her first premier relationship. Families Need Fathers is a non-profit social care organization, which helps parents and children whose relationships are under threat. They are the only national organization, in the UK, who provides information, advice and support services to parents. Ken Sanderson, CEO of Families Need Fathers, London, commented, "We hope that this innovative resource will support separating parents to maintain communication with each other, and to focus on the best interests of their children as they develop effective co-parenting arrangements for the future."
The creator of Divorce in a Box, Suzy Miller, whose product is a travel guide to avoiding adversarial lawyers, saving money and protecting the kids (http://www.sosdivorceinabox.com), is excited about the launch of Kids On Time in the UK. "There was immediately such synchronicity with the values and aims of Kids On Time, and with my own mission to provide practical tools to families wanting to co-parent effectively. If technology can help parents to better communicate, then they should take advantage of that, for the sake of their children as well as for their own peace of mind." Children are often the silent victims of family breakup, and one way to change that is for parents to find new ways to communicate with respect and with confidence. Kids On Time provides a tool box of online resources that parents can use effectively, even if they are in the midst of a difficult family breakup.
Suzy Miller is hoping many parents will take advantage of the two week free trial being offered through Families Need Fathers, and that the money manager, private messenger, shared family calendar, and other useful applications will prove of great benefit.
As Kids On Time moves into 2013 and the use of co-parenting tools expands along with other forms of communication technologies their goal is to continue this expansion globally.
About Kids On Time, Inc.
Kids On Time is a pioneer in the co-parenting software market. The company's flagship product is a co-parenting application for divorced or separated couples and blended families. Kids On Time applications are used by couples and professionals working with divorced parents. Kids On Time connects co-parenting couples through the use of technology to help them communicate better and more effectively for the purpose of raising their children. Kids on time is the undisputed leader providing affordable, user-friendly, technologically advanced co-parenting tools. Keeping in front of the technological trends allows Kids On Time to pioneer and create new niches in the market. Kids On Time is headquartered in Portland ME with an office in Phoenix, AZ and East Sussex, UK. For more information visit http://www.kidsontime.com Follow us on Twitter @kidsontime