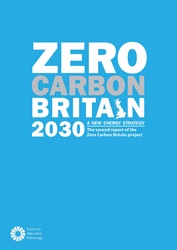 The great transition to a Zero Carbon Britain is not only the most pressing challenge of our time, it is also entirely possible. The solutions needed to create a low carbon and high well-being future for all exist, what has been missing to date, is the po
London, UK (PRWeb UK) June 15, 2010
The press is invited to attend the press launch of zerocarbonbritain2030, a groundbreaking report from the Centre for Alternative Technology (CAT). The event will be on June 16th at 9:30 am, in the Sunely Room at The Royal Institution of Great Britain.
zerocarbonbritain2030 is a positive, realistic policy framework grounded in the latest climate science. It provides political and economic solutions to the urgent challenges raised by the threat of climate change.
"zerocarbonbritain2030 shows how we can transform the UK into an efficient, clean, prosperous zero carbon society." Paul Allen, CAT
'zerocarbonbritain 2030' brings together cutting-edge findings from leading experts and researchers from a variety of organisations and disciplines, and sets out exactly what Britain must do to meet the challenges posed by the unprecedented scale and speed of the climate threat.
zerocarbonbritain 2030 will be immediately relevant to citizens, communities, businesses and policymakers everywhere.
"The great transition to a Zero Carbon Britain is not only the most pressing challenge of our time, it is also entirely possible. The solutions needed to create a low carbon and high well-being future for all exist, what has been missing to date, is the political will to implement them."
Dr Viki Jonhson New Economics Foundation.
zerocarbonbritain2030 LAUNCH EVENT:
16th June 2010 9.30-11.00 am
Sunley Room
The Royal Institution of Great Britain
21 Albemarle Street
London
W1S 4BS
Speakers will include:

Eugiene Harvey, Director of the 10:10 campaign
Andrew Simms, The New Economics Foundation
Paul Allen, Director at the Centre for Alternative Technology
For advance copies, to confirm your attendance and for more information please contact: Kim Bryan kim(dot)bryan(at)cat(dot)org(dot)uk
01654 705 957/ 0777 088 1503
There will be a parliamentary launch of the report at 6pm in the 16th of June.
For more information visit http://www.zerocarbonbritain.com
# # #