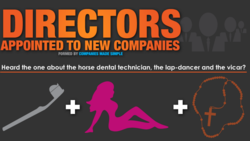 Proof you're never too old to start a UK company. The oldest new director was 94!
London (PRWEB UK) 5 January 2012
From vicars to lap‐dancers ‐ entrepreneur culture in Britain is alive and well, says report by the UK's leading company formation agent, Companies Made Simple.
   
A UK company director report by Companies Made Simple, the formation division of Made Simple Group and the UK's leading formation agent, has gathered data from over 110,000 company directors appointed to new UK companies between January 2009 and September 2011, to show that:
Status and age are no barrier to entrepreneurship:
New directors' occupations range from vicars to lap‐dancers, and from kings and presidents to students and the unemployed. Over 850 people even gave their occupation as "entrepreneur".
The youngest director was just 16, the oldest 94, with the most common age being 30.
The Chinese are coming:
Whilst India has the most directors who live in the UK but are not UK nationals, China has the highest "Entrepreneurial Nations Index" – taken by looking at how many directors a country has compared to the estimated number of people from that country living in the UK.
Chinese directors make up nearly a quarter of all directors living outside the UK.
The Italians might be coming too…the number of directors living in Italy has surged by 72 per cent since 2009.
The "glass ceiling" still exists:
Men are three times more likely to be directors than women. This is unchanged over the last three years.
Pakistan and Norway were the worst offenders according to Companies Made Simple's "Glass Ceiling Indicator" – less than 13 per cent of women from those countries are women.
The Road to success is not written in the stars:
A director is more likely to live in a Road than a Street or Avenue but there's no significant difference between star signs when it comes to directorships.  
A full copy of the report can be found here.
Companies Made Simple is the largest formation agent in the UK. It is also the only company formation agent approved by the Institute of Chartered Accountants.
The Made Simple Group (MSG) is home to a range of business entities dedicated to providing online business solutions to the start‐up and small business communities. Founded in the UK in 2002, the MSG strategy is to deliver low‐cost effective products and services to the start‐up and small business communities throughout Europe. As the name suggests, the focus is to keep everything simple.  
Howard Graham, founder and CEO of MSG, says: "As the leading company formation agent in the UK, we have a wealth of data available to us. We can look at changing trends in areas such as directors' ages, gender, occupation and nationality. We have also built up a fascinating picture of the people starting businesses in the UK."
###