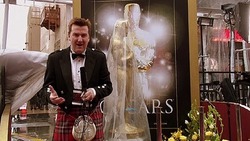 "Making the documentary was probably the most exciting two years of my life, as I worked with a lot of great people and spoke to a lot of stars who I had admired from afar." Douglas McFarlane, Director, Making It In Hollywood
Beverly Hills, CA (PRWEB) December 10, 2010
In the tough business of show business, there are not many ways to make a successful film outside of the Hollywood studio system. It's even tougher in the low-budget independent film world. Today however, saw the successful U.S. launch of Making It In Hollywood, where a blogger from Scotland turned his celebrity blog into a feature length documentary and partnered with Amazon.com to launch the DVD in the U.S. today.
It was an invite to cover the Oscars for his film and theatre blog that connected the ideas which were rushing around the head of first-time director Douglas McFarlane. He had been acting for several years prior to this, performing in theatres around his native Glasgow, character parts in a wide variety of independent films, and TV on a few occasions. Like many people who are intrigued with show business, he was keen to understand what it really takes to be successful in the Hollywood machine. Using his internet expertise, McFarlane started social networks in film and theatre which soon generated large communities. "As soon as I got the Academy nod, the plan was to interview indie filmmakers and blog an article to my UK Theatre Network and UK Film Network, using my high definition camera, laptop and smartphone", McFarlane says, "but all that changed on my first weekend in Hollywood".
After securing interviews with independent actors, directors and presenters working in Hollywood, he was invited to an exclusive pre-Oscars event where Ennio Morricone was receiving an Honorary Oscar award from the legendary film producer Dino-De-Laurentiis (who sadly passed away recently aged 91). Morricone had composed hundreds of film scores including the all-time classic The Good, The Bad and The Ugly, and his work continues to be used in QuintenTarantino films. "Suddenly the atmosphere in the room changed and a tall grey haired gentleman passed through the crowd while the invited journalists from Fox News jostled for position in front of my camera", McFarlane says. "Hollywood legend Clint Eastwood arrived and hugged his old friend who he hadn't seen in 40 years. It was at that very moment, that I realised I was filming a behind-the-scenes view of Hollywood that a wider audience would be interested in seeing", the director adds.
Cannes was the next stop for our newly confident documentary maker and a fifteen minute short version of Making It In Hollywood was entered into the festival. It seems that all of Hollywood descends on Cannes in May as the tranquil beachfront is turned into an exclusive red carpet extravaganza and deals are made aboard large multi-million pound yachts. Jessica Simpson was launching her film "Major Movie Star" which created a media frenzy and clashes with bodyguards. With supporting camera from indie filmmaker Kevin Clark, they were able to film the event in close detail. In another scene in the documentary, Leonardo Di Caprio waves to fans in the Cannes sunshine, only to be later filmed at the airport being whisked away under a hoodie, avoiding the publicity that he was actively seeking only an hour earlier.
London was the next part of the journey as the BBC and Film London were running an annual competition to win "£100,000 to make a film". Winning through the initial stages to get to the top ten applicants was difficult enough but could our new director really convince those at the top ? The hard work over several weeks, culminated in a 4 day film school and a pitch to some of the most influential people in the British film business. This lead on to a trip to Robert Redford's Sundance Film Festival, in the beautiful snow-capped mountains of Salt-Lake City. "I wanted to get more feedback from actors who had made it to the top of their career to keep a balance between those who were trying to make it and those who already had", says McFarlane. After hundreds of phone calls, chance meetings and serendipity, the A-listers started to talk. Sharon Stone and Ewan McGregor were first to provide insightful thoughts on how their success has come about. McFarlane adds, "I also interviewed Jackie Chan's son, Jaycee, and he let me know how he felt being part of an infamous filmmaking family".
It was back to London for the BAFTA's and an enviable slot on the red carpet next to the BBC to interview as many of the Brits who are household names in Hollywood. Tilda Swinton, Ricky Gervais, Eddie Izzard and Kate Hudson, all stopped to share a thought about Making It In Hollywood. The adventure ends with a final trip back to the 82nd Oscars in Hollywood where perhaps the most succinct view of Making It In Hollywood came from well-known New York Times film critic David Carr. "Douglas what you need to remember is that there is this whole heaving apparatus that goes on, independent of film. It's this huge throbbing machine where bells go off, and whistles blow, smoke comes out, and eventually everybody, the stars, the journalists, and maybe even sometimes the movies are thrown clear. But in general it isn't really about the movies. It's about a society need for a narrative of fame to go with these films. They need to know the story behind the stories that they've just seen."
McFarlane says "Making the documentary was probably the most exciting two years of my life, as I worked with a lot of great people and spoke to a lot of stars who I had admired from afar. I was able to understand the hard work, dedication, networking, skills and talent that you need in order to truly be successful in the toughest business, in the toughest town."
Making It In Hollywood is out now on Amazon.com with a UK release in January. It will also be available on Amazon's Video On Demand early in 2011.
###