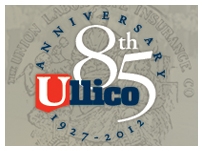 "We're incredibly excited to reach this significant milestone. Ullico is a wonderful combination of core mission and proud history that is tied to the rise of the American labor movement." - Edward M. Smith, President and CEO
Washington, D.C. (PRWEB) May 01, 2012
Ullico Inc. (Ullico), a privately held specialty insurance and investments holding company serving the union workplace, today marks the 85th anniversary of its subsidiary life insurance company, The Union Labor Life Insurance Company. President and CEO Edward M. Smith will launch the company's year-long celebration today in a speech at the AFL-CIO's Building & Construction Trades Department Legislative Conference.
Throughout the coming year, Ullico will celebrate its rich heritage as a union-owned company that has been focused on bettering the lives of Americans employed in union jobs and serving the union workplace with a rich array of innovative products and services. In addition to remaining the premier insurance provider for union members and employers, over the years Ullico has expanded its insurance offerings, and invested in building and real estate projects across America that provided thousands of jobs for union workers –while remaining true to the original mission of serving American union workers and their families.
"We're incredibly excited to reach this significant milestone," said Smith. "Ullico is a wonderful combination of core mission and proud history that is tied to the rise of the American labor movement, and a forward-thinking company that continues to develop new products and services to meet the demands of today's union employers and workers," he said.
On May 1, 1927, The Union Labor Life Insurance Company opened its doors for business, selling its first policy to Federal Employees Local 105 in Washington, D.C. The company was the brainchild of American Federation of Labor founder Samuel Gompers, who saw a need for a union-owned insurance company during a time when most workers could not be covered under traditional insurance policies, due to the dangerous nature of their jobs.
Life insurance policies like those the company first sold in 1927 remain a viable part of business today, and have grown to include a full suite of products offered through its other subsidiaries from Medical Stop Loss to Fiduciary Liability coverage to investment services. Overall, the company's more than $5 billion in assets stem from the competitive, affordable policies and innovative, sound investment opportunities designed to offer security even during trying economic times.
The anniversary celebration will include numerous activities over the next twelve months, including recognition of long term clients and employees, the introduction of several new insurance products and launch of a digital archive to preserve company history.
About Ullico Inc.
For 85 years, Ullico has served the union workplace. From insurance products for union members and innovative risk management solutions for contractors and employers, to investments in building and real estate projects that have created thousands of union jobs, Ullico is the proud partner of the American worker.
Ullico is a $5.6 billion insurance and financial services holding company. Headquartered in Washington, D.C., Ullico also has regional offices in New York, Chicago, San Antonio, San Francisco and Santa Monica. It is the only insurance and investment company that is labor-owned, which is why union members and union employers across America trust Ullico with protecting their families, employees, businesses and investments.
For more information, contact:
Christine LaPaille
Vice President,
Chief Communications Officer
202.354.8044
communications(at)ullico(dot)com