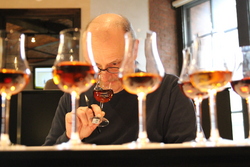 Integrity is the cornerstone of Ultimate Beverage Challenge competitions. Winning hard-won accolades from the most respected experts in the industry translates into obvious benefits for any producer or importer.
New York, NY (PRWEB) December 8, 2010
Ultimate Beverage Challenge reinvented how beverage competitions are conducted with the inaugural 2010 Ultimate Spirits Challenge, Ultimate Cocktail Challenge and Ultimate Wine Challenge. More than 1,200 spirits and wines were entered in these groundbreaking Challenges and today we are happy to announce our 2011 Challenge dates.
The Challenges have been developed by three industry powerhouses – founding partners Sue Woodley, David Talbot and F. Paul Pacult – who, along with Judging Vice-Chairman Sean Ludford believe that beverage challenges better serve the market when they are based on the 100-point scale, (not ubiquitous and often meaningless medal distribution), are judged by a panel of expert judges (the top names in their industry) and use an open and transparent judging method (want to know how we judge? Just ask). Based on the resounding industry support and accolades and the success of the 2010 competitions, today UBC is happy to announce the 2011 Challenge dates:
Ultimate SPIRITS Challenge – March 1-4, 2011
(entry forms available December 1, 2010; deadline is February 18, 2011)
Ultimate COCKTAIL Challenge – April 5-8, 2011
(entry forms available January 3; deadline is March 22, 2011)
Ultimate WINE Challenge– May 2-6, 2011
(entry forms available January 31; deadline is April 22, 2011)
All three Challenges will be held at Astor Center in New York City, a state-of-the art tasting facility, with all products evaluated under the most ideal conditions.
Ultimate SPIRITS Challenge will award top honor to the best spirit in its category – i.e., best gin, best tequila, best rum, best Cognac, etc.
Ultimate Cocktail Challenge will include two competitions (brands can choose to enter both or either):
CLASSIC COCKTAIL Challenge will award top honor to the spirit that 'performs' best in a classic cocktail, i.e., best gin in a gin martini, best tequila in a margarita, best rum in a mojito, etc. There are multiple classic cocktails in each category. Each rum entered, for instance, will be judged in each of the classic rum cocktails.
NEW IN 2011! – SIGNATURE COCKTAIL Challenge! Here brands will enter their own cocktail recipe(s) and these cocktails will go head to head with all other signature cocktails in the same category – i.e., vodka cocktails will compete against all other vodka cocktails, gin vs gin cocktails, etc. Best cocktail in that category wins. The company submitting the recipe gets to choose what category it competes in.
Ultimate WINE Challenge will award top honor to the best wine in its category – i.e., pinot noir, best riesling, best Champagne, etc.
Said Pacult of UBC's immediate success, "Unlike many other competitions both in the U.S. and abroad, UBC is not a 'medal factory.' Sean and I would never allow products that are judged inferior by UBC judging panels to be rewarded with a soft bronze or a meaningless silver medal just
for entering. The beverage alcohol industry wants top quality beverages properly recognized and rewarded with justification."
Respected consultant/educator/UBC senior judge Steve Olson calls UBC "the fairest competitions on the planet."
Judges for 2011 include a veritable who's who of the spirits industry including: Dale DeGroff, Mary Ewing-Mulligan, gaz regan, Julie Reiner, Jennifer Simonetti-Bryan, Dave Wondrich and more. Complete list of judges can be found on the UBC website.
Said Talbot, "The clear success of our first three Challenges reflects the UBC credo of Integrity-Method-Credibility. UBC's revolutionary methodology assures the precise and careful evaluation of every product entered."
Added Woodley, "For 2011, we are so excited to add the UCC Signature Cocktails category, where brands can 'show off' their best signature brand cocktails. Now, that will be an eye-opening experience for our panels of judges."
2011 ULTIMATE BEVERAGE CHALLENGE SUBMISSION INFORMATION
Product submission fees are as follows:

Ultimate SPIRITS Challenge: $395 per spirit submission.
Ultimate CLASSIC COCKTAIL Challenge: $395 per spirit submission.
Ultimate SIGNATURE COCKTAIL Challenge: $495 per recipe submission.
Ultimate WINE Challenge: $95 per wine submission.
For more 2011 Challenges information, please see our FAQs at http://www.ultimate-beverage.com. For 2011 submission inquiries, please call 347.878.6551 or email info(at)ultimate-beverage(dot)com.
Follow us on Facebook at http://www.facebook.com/UltimateBeverageChallenge
# # #