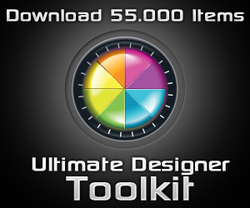 55.000 Designer Items in one Place
New York, NY (PRWEB) October 29, 2010
We are proud to introduce the Ultimate Designer Toolkit which is one of the most acknowledged website among graphic designing and printing personnel. Ranging from Seamless Vectors to Pixel Icons, the website is meant to help a designer with visually aesthetic design material. The website holds 55,000 design items which are carefully chosen. Following is a quick look at the design item ultimatedesignertoolkit.com is offering:

Seamless Vectors
Photoshop Gradients
Photoshop Layer Styles
Vector Illustrations
Photoshop Patterns
Ultimate CSS Framework (Easy PSD-2-HTML Conversion)
Photoshop Brushes
Adobe Add-ons
Vector Elements
High Resolution Textures
Vector Icons
Stock Photos
Web Graphics
The website also features a blog which contains photoshop tutorials, photoshop textures, design elements and vectors. Navigating the site is extremely easy and due to exhaustive collection of web development and printing items, a designer never finds himself deserted. The website was developed with a fair idea in mind - one platform, all designers. Visiting the website and surfing it thoroughly reveals the very fact that ultimatedesignertoolkit is a gentle collection of diverse design and printing items.
The new site at http://www.ultimatedesignertoolkit.com is designed to give Photoshop beginners the chance to learn Photoshop within minutes, using the huge collection of add-ons and products, which will help them achieve the basics and advanced techniques in Photoshop and Adobe illustrator.
"We already have over 55,000 items for designers: 25.000 Photoshop Gradients, 16.000+ Photoshop Layer styles, thousand of Vector illustrations , Vector icons, 3000+ Photoshop Brushes, 3000 Hi-Res Stock Photos and Textures," says Razvan Ionut, owner of UltimateDesignerToolkit.com.
These tools, easily imported into the award-winning program, allow users a no-hassle option to give their documents that little something extra to set their work off and avoid the project "blahs."
UltimateDesignerToolkit offers an attractive Affiliate program with 40% commission. A transparent system of sales tracking is observed and affiliates are paid monthly.
"We plan to extend the website to include discussion forums, user pages and graphics search engine," says Razvan Ionut, owner of UltimateDesignerToolkit.com.
For more information about UltimateDesignerToolkit.com, please visit http://www.ultimatedesignertoolkit.com, or contact Razvan Ionut at 0745-514.847
###