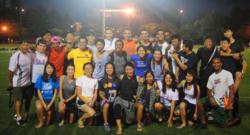 We're thrilled to be hosting the first Nike Ultimate Camp in New York City this summer. Ultimate is growing rapidly across the country, especially at the youth level.
San Rafael, CA (PRWEB) April 10, 2013
US Sports Camps is proud to announce Aaron Bell as director for the Nike Ultimate Camp New York City.
Coach Bell has been playing, coaching and organizing elite level ultimate frisbee for 15 years and always remained an active member of his community. His extracurricular resume speaks volumes to his lifelong interest in the healthy development of youth and the sport. Bell is a high school coach and league organizer, has worked as a camp counselor at multiple ultimate camps, founded several ultimate club teams and tournaments and is head coach to the NY Empire pro team. Some of his accomplishments as a player include: 5 national appearances for club open & mixed, winning the National Championship in the Mixed Division in 2004, Runner up in the Callahan Award (MVP) for Oregon in 2006, a UK Men's National Championship in 2007 and a Paganello World Beach Championship in Italy the same year, as well as competing at the 2010 World Ultimate Club Championships in Prague.
The Nike Ultimate Camp New York City offers a Day camp (9:00am-4:00pm) for ages 11-18 from July 8-12 and an Overnight and Extended Day (8:30am-8:30pm) camp for ages 14-18 from July 14-19. Both sessions are open to both boys and girls. Some instruction and competitive play will be mixed and some will be separated by gender. The day camp includes all ultimate instruction, match play and lunch. The overnight and extended day camp will also include video review for field play & running/throwing form, some initial exposure to strength training, yoga, and other cross fitness activities. Lunch and dinner are included for extended day campers and all meals are included for overnight campers. Ultimate instruction and play will take place at the Randall's Island fields.
Bell, who has partnered with US Sports Camps to establish Nike Ultimate Camps said, "We're thrilled to be hosting the first Nike Ultimate Camp in New York City this summer. Ultimate is growing rapidly across the country, especially at the youth level. We are just extremely excited and proud to be apart of this large-scale movement to increase awareness for the sport and to bring new ultimate programs to our youth. Having Nike sponsorship is truly the icing on the cake!"
Founded in 2013, the mission of Nike Ultimate Camps is to provide an unparalleled summer camp experience for growth and development of youth ultimate players by immersing campers in the sport and giving them the kind of focused, intensive training essential for their improvement. By instilling a balance of team work with self-reliance, competition, and fun, our programs prepare Nike Ultimate Campers for success in both the sport of Ultimate and in life.
About US Sports Camps, Inc.
US Sports Camps (USSC), headquartered in San Rafael, California, is America's largest sports camp network and the licensed operator of Nike Sports Camps. The company has offered summer camps since 1975 with the same mission that defines it today: to shape a lifelong enjoyment of athletics through high quality sports education and skill enhancement.
Players, coaches, parents and others interested in Nike Tennis Camps and US Sports Camps can visit the company's website at USSportsCamps.com or phone 1-800-NIKE-CAMP.