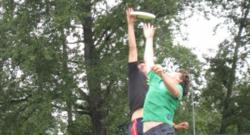 There are over 5 million ultimate players in the U.S. alone and the sport is still growing rapidly.
San Rafael, CA (PRWEB) April 03, 2013
Nike Ultimate Camps offer summer ultimate frisbee camp opportunities coast to coast for junior and high school players looking to the opportunity to partake in a summer camp focused on improving their ultimate frisbee skills. Campers will elevate their game, work hard, make new friends and be challenged by some of the best players in their peer group.
"We are thrilled to be expanding our network into the sport of ultimate frisbee," says Charlie Hoeveler, Founder and CEO of US Sports Camps. "There are over 5 million ultimate players in the U.S. alone and the sport is still growing rapidly." Hoeveler adds, "We look forward to providing a fun and safe camp environment for young athletes to come learn and enjoy this exciting sport."
Becoming a complete ultimate player means developing athletic ability, knowledge of the game, self-esteem, confidence, sportsmanship, team concept and a positive attitude on and off the field. Nike Junior Overnight Ultimate Camps and Nike Junior Day Ultimate Camps help athletes develop these skills by coaching them through the same drills and focused scrimmages used by top university and club level players. By instilling a balance of team work with self-reliance, competition, and fun, our programs prepare Nike Ultimate campers for success in both the ultimate frisbee and life.
This summer we will be offering Nike Ultimate Camps in New York, North Carolina, Minnesota, Georgia, Kentucky, Oregon, and more.
About US Sports Camps
US Sports Camps (USSC), headquartered in San Rafael, California, is America's largest sports camp network and the licensed operator of Nike Sports Camps. The company has offered summer camps since 1975 with the same mission that defines it today: to shape a lifelong enjoyment of athletics through high quality sports education and skill enhancement.
Campers, parents, and coaches interested in the 2013 Nike Ultimate Camps can visit USSportsCamps.com/Ultimate or call 1-800-645-3226.