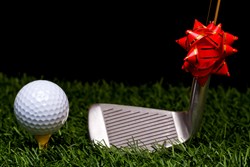 As brands battle it out for shelf space during the holiday season … it's easy to get overwhelmed by choice when buying Christmas gifts for golfers.
Manchester, United Kingdom (PRWEB) December 06, 2013
As this year's figures point to an increasingly healthy golf industry with growing economic reach, Ultimate Golf Advantage (UGA) announces the publication of its first annual Christmas gift guide for golf shoppers of all budgets. The guide is available now at http://www.UltimateGolfAdvantage.com/uga-golf-christmas-gift-guide/.
Golf's economic impact has grown from strength to strength over the past year. In fact, The Census Bureau has revealed that the golf industry tops the combined revenues of professional sports including baseball, basketball, football and hockey.
According to recent findings from Bloomberg, the spillover effect that the golf industry has on economic sectors such as tourism places a value of $177 billion on the golf economy. Personal spending on golf merchandise is also on the rise, with annual spending on golf equipment, clothing and accessories amounting to $5.6 billion (Bloomberg). UGA representative, Alex Davidson, commented:
"As brands battle it out for shelf space to meet consumer demands during the holiday season, the team behind UltimateGolfAdvantage.com are offering golf shoppers an early Christmas present: A guide to the best golf gifts for every playing ability and to suit any budget."
The problem faced by many shoppers looking for golf gifts is that they don't take playing ability into consideration, or they make assumptions about equipment preferences when selecting the gifts for the golfers on their holiday shopping lists. Mr. Davidson said:
"Ours is a saturated industry, with seemingly endless choices of clubs, balls, clothes and accessories, so it's easy for golfers and non-golfers alike to get overwhelmed when buying game-related gifts."
Mr. Davidson explained that the diverse playing backgrounds of the team at Ultimate Golf Advantage was a contributing factor to the gift guide, which features gifts for two categories of golfers, the Scratch Group and the Recreational Group, as well as gift-buying advice.
"It's a mistake to assume that the weekend golfer will like the same equipment as the serious player who practices often," said Mr. Davidson. "It's also a mistake to think you have to spend top dollar to find great presents for golf."
Despite increasing consumer expenditure in the industry, the first annual UGA Christmas Gift Guide caters to any budget size, offering unique gift ideas for less than $20, less than $100 and less than $500. With it's well researched and tested content, the featured gifts are sure to please every golfer.
Ultimate Golf Advantage's Christmas gift guide is available now at: http://www.UltimateGolfAdvantage.com/uga-golf-christmas-gift-guide/.
About Ultimate Golf Advantage:
UltimateGolfAdvantage.com was founded to cut through all the noise that exists in the golfing world these days. The team behind Ultimate Golf Advantage is committed to offering genuine advice and insight to passionate golfers around the world who are serious about improving their game.
More information can be found at the Ultimate Golf Advantage website: http://www.UltimateGolfAdvantage.com.