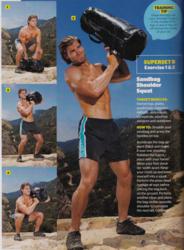 We are the first and only company that has developed an educational system around the use of sandbag training and sports performance
(PRWEB) November 26, 2012
Though the origins of sandbag training can be traced throughout history, The Ultimate Sandbag program is rapidly gaining recognition among fitness industry experts as an emergent form of functional training. Its unique ability to strengthen the body and improve all around stability, coupled with the fitness specific design, has lead to feature articles in the November issues of Reps, Oxygen, SELF, and Fitness X magazine.
"While sandbag training isn't new," says Josh Henkin, creator of the Ultimate Sandbag fitness system, "having a sandbag specifically created for fitness and how to properly implement them is very new. In fact, we are the first and only company that has developed an educational system around the use of sandbag training and sports performance."
Henkin's program is highlighted as a unique training program that challenges the body with diverse and innovative maneuvers. Ultimate Sandbag Training focuses on the fundamentals of dynamic variable resistance training program, which Henkin uses to teach home users and fitness professionals the proper techniques for optimally executing the unusual attributes that sandbag training allows.
Sandbag training is trending and "not only will it help you build muscle, but sandbag training will also stabilize and strengthen your joints," explains the feature in Reps Magazine.
The strength building rewards from the Ultimate Sandbag are only one aspect of the overall benefits that a person using the training techniques can expect. By engaging all of the body's major and minor muscle groups, the system takes advantage of weight and movement to create a total body resistance workout that will increase strength and center stability necessary to perform better in all physical activity.
Bags come in a variety of sizes and weight for both men and women. Their men's beginner system, the strength package, is recommended for men and more advanced women. Weight is adjustable for a beginner level of fitness of about 25-80 pounds, leading up to their advanced package for those looking to train with 80-160 pounds.
For more information regarding The Ultimate Sandbag and training program, contact Josh Henkin, visit their website or like them on facebook.com/ultimatesandbagtraining.
About Ultimate Sandbag Training:
Josh Henkin invented the Ultimate Sandbag Training System after physical therapy and traditional corrective exercises couldn't relieve his lower back pain caused by training and competing as a Division I athlete. The idea came after studying old time strongmen that used odd objects to "fill in the holes" of strength training. To date, more than 300 exercises are possible with the Ultimate Sandbag. The system is currently used by professional athletes, military forces and weekend warriors in 70 countries. Additional information is available at http://www.ultimatesandbagtraining.com
# # #