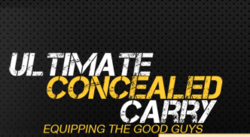 Burbank, CA (PRWEB) August 10, 2012
In the wake of the recent Colorado "batman movie" tragedy, officials with ultimate concealed carry have renewed their commitment to supply all law-abiding citizens with the ability to carry the protection they need to be safe at all times.
"My heart breaks for those who lost their lives in Aurora, Colorado so needlessly," said Kendall Montgomery, CEO of Ultimate Concealed Carry. "I can't shake it, the horror. I wish one law-abiding citizen in that theater was carrying a pistol. Lives would have been saved."
The July tragedy, Montgomery said, reinforces the need for law-abiding citizens to conceal carry.
"Ultimate Concealed Carry believes that the only place you should be without a gun is the place you are willing to die today," the holster's inventor, Steve Wiesner, stressed. "We are dedicated to equipping the good guys. Our company was created with one mission in mind: To provide a way for everyone who wants to carry concealed, to be able to, comfortably and hassle-free."
The chief executive officer advocates The Hide-It Holster, Grip-It Holster and Flashbang Holster, which she believes, provides the utmost in concealment, comfort and convenience while holstering everything from a .380 to a full-size .45.
"The Hide-It Holster features a below-the-waistband design that allows you to comfortably carry that .45 no matter what you wear, shirt in, shirt out, no shirt," Montgomery pointed out. "As long as you have pants on, you can carry wherever you go."
She added that the company's Grip-It Holster, which is within ATF regulations, fits most .380s, and is made to print like a wallet.
"The Grip-It holsters safely in your pocket and fires from within the holster itself," she said. "It's the wallet that shoots back."
Ultimate Concealed Carry, which has been featured on NCIS: Los Angeles to TruTVs Smartest Inventions and many national news and radio appearances, also has an entire women's line of holsters called the Pin-Up Collection.
What makes Ultimate Concealed Carry different from everyone else on the market, according to Montgomery, is that it's committed to equipping the good guys and gals, where all of its holsters are made in the USA.
"Most of our competitors' products require the user wear some sort of cover garment for complete concealment," Montgomery said. "We understand that comfort and convenience are the key ingredients to carrying concealed on a daily basis. Our holsters require nothing more than a pair of pants for the gentlemen and a blouse for the ladies."
For more information, please visit: http://www.ultimateconcealedcarry.com/
About Ultimate Concealed Carry
UCC equips local and federal law enforcement agencies across the country and around the world. The company not only provides them with concealed-carry holsters they can use on and off duty, it provides them with excellent training. Undercover officers being able to carry concealed in any situation, wearing any type of clothing, gives them an added edge in protecting themselves and others.
Whether you own one of our holsters or are considering your options, UCC is dedicated to making sure you are comfortable with how to use it properly. Training is an important part of what UCC does. UCC's website offers several training videos, as well as one-on-one training at local gun shows.