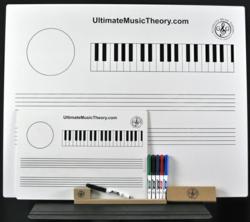 "When can we use the Ultimate Whiteboard, is the first question my students ask when coming in to class. It's so much fun getting to use the whiteboard and cute eraser! I am excited about teaching theory. Thanks!" Annette Hay ARCT RMT UMTC
Winnipeg, Manitoba (PRWEB) December 13, 2011
UltimateMusicTheory.com launches the Ultimate Whiteboards. This unique teaching aid was created for teachers and students to provide an innovative way to present the language of music theory. No more drawing lines on the chalk board or looking for scrap paper to teach theory concepts. The Ultimate Whiteboard is the teaching tool that puts the fun back into learning theory and develops creativity.
"When can we use the Ultimate Whiteboard, is the first question my students ask when coming in to class. It's so much fun getting to use the whiteboard and cute eraser! I am excited about teaching theory. Thanks!" says teacher Annette Hay ARCT RMT UMTC.
The Ultimate Whiteboard is a two sided whiteboard with staff lines, keyboard and circle on one side and blank on the other side. This is perfect for private or classroom instruction for drawing the Circle of Fifths, Key Signatures, Time Signature, Scales, Cadences, Chords, Ledger Lines and association with the placement of notes on the staff to keys on the keyboard and so much more.
Hurry and Order Now for delivery before Christmas. Many holiday shoppers are looking for a truly original gift for their student, their teacher or even themselves. This Christmas season Ultimate Music Theory is offering the Ultimate Whiteboard Special which includes: one Large Whiteboard (24 x 30 inches) and one Small Whiteboard (11 x 16 inches), plus the dry-erase markers, dry-erasers and stand. Regular price $116.97 Now Only $99.97. Give the gift that's fun, educational and creative. Happy Holidays from UltimateMusicTheory.com and enjoy sharing the gift of music.
Ultimate Music Theory Ltd. is dedicated to providing the best quality educational materials related to the study of music theory. The Ultimate Music Theory Series brings music theory education to students, teachers and schools, by blending the pleasure of learning with sound instruction and raising the awareness and understanding of the role that music plays in overall education and quality of life worldwide. Author, clinician and teacher - Glory St. Germain ARCT RMT MYCC UMTC sets a new standard of achievement in Music Theory Education. To view inside the Ultimate Music Theory workbooks, see videos, download free materials or more information call 877 868-6644 or visit the website at UltimateMusicTheory.com.
###