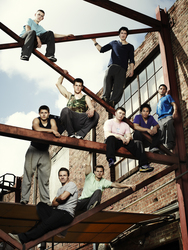 Los Angeles, CA (PRWEB) May 17, 2010
Since Parkour went viral with over 100 million hits on YouTube, adrenaline junkies across America have been tuning into the world's fastest growing extreme sport. Casino Royale, Madonna's JUMP video, gravity-defying commercials - who ARE those guys jumping off rooftops anyway? Meet Parkour. MTV's "Ultimate Parkour Challenge" has joined forces with the World Freerunning & Parkour Federation to answer America's demand for action with live footage of the world's most reknowned Parkour athletes.
The "first sport of the YouTube generation" plus MTV adds up to 12 episodes of mind bending Parkour. Internet legends Daniel Ilabaca, Ryan Doyle, Oleg Vorslav, and Tim Schieff jump, roll, climb, leap, sprint, flip and fly, flowing over walls, cars, stairs, railings, and 10-foot rooftop gaps between 5 story buildings across Southern California. Beginning May 6th, every Thursday at 10:30pm ET/PT, audiences around the globe share in the exhilarating action LIVE, from the Queen Mary to Venice Beach, from Redondo to Hollywood with a final spectacle in downtown LA. Tune in to see what's all the rage across the country and around the world. For background on the show and more about Parkour and the athletes, visit http://www.mtv.com/shows/parkour/series.jhtml.
As worn by WFPF athletes on MTV's ULTIMATE PARKOUR CHALLENGE! - the KO (Know Obstacles) Parkour Shoe is light and flexible. Designed by parkour greats for amateurs and emerging-stars alike, the first affordable indie-parkour shoe is now available for preorder ($39.99) at http://www.wfpf.com.
The World Freerunning & Parkour Federation is dedicated to the safe and respectful advancement of the Parkour & Freerunning Movement throughout the world. Inspired by the creativity and mental discipline embodied by Parkour and Freerunning, the athletes and founders of the WFPF will faithfully bring this philosophy of movement to the growing numbers of optimistic young people around the globe who believe that through camaraderie, self-expression, and service to others, there is no obstacle that cannot be overcome.
###