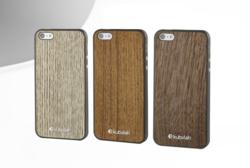 TORONTO (PRWEB) June 11, 2013
kubxlab™, leading innovative tech accessory brand, is excited to announce the new and stylish collection of Ultra Thin Wood iPhone 5 Cases. The Ultra Thin case is one of the thinnest cases available, weighing in at an astonishing 5 grams and adding only a 0.39 mm to the thickness of your phone, to offer fashionable iPhone 5 protection without the bulk or weight of a traditional case.
The Wood Collection from kubxlab boasts genuine wood and is the perfect way to add style and scratch prevention while maintaining the unmistakable feel of a case-less phone. Each wood iPhone case is constructed from a lightweight durable material fused with stylized wood textures.
"We are very excited for our new Ultra Thin Cases. The Wood Collection uses natural wood and offers unique grain textures, bringing a classic twist to the design. Innovation is central to kubxlab's culture and the new ultra thin iPhone 5 cases echo that approach, offering an interesting and original experience."
The Wood cases, available in Light Wood, Dark Wood and Brown Wood, are the first available of three distinct collections of Ultra Thin iPhone 5 Cases from kubxlab. Additional Ultra Thin Case collections are expected to launch in the coming weeks including the Elegance Collection, offering leather cases, and the Exotics Collection, featuring snake and lace designs. Each collection is expertly crafted with the finest materials to provide users a variety of options to suit all taste profiles.
The Ultra Thin Cases are the latest tech innovation to join kubxlab's lineup of striking and practical Apple accessories.
To find out more about The Ultra Thin Wood iPhone 5 Cases from kubxlab please visit kubxlab.com
About kubxlab™
Founded in 2010, kubxlab brings innovative tech accessory solutions to life. kubxlab's passion is to design stunning and innovative products for the discerning consumer. For more information, please visit kubxlab.com.
Connect with kubxlab™ on Twitter, twitter.com/kubxlab, and Facebook, facebook.com/kubxlab.
Media Contact
Heather Hewit
lotus823
Heatherh(at)lotus823(dot)com
732.212.0823