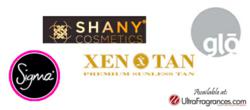 Ultra Fragrances has just taken delivery of four new makeup and skincare ranges that are set to embrace the hottest season of the year.
San Jose, CA (PRWEB) June 28, 2012
Ultra Fragrances, a leading online retailer of discounted perfumes, makeup, beauty tools and skin care products today announced the arrival of new beauty products to keep their customers updated with the latest beauty trends to grace their beauty catalogue starting this July.
According to Tammy Huynh, CEO of Ultra Fragrances, they constantly work on gaining more timely insights when it comes to varying customer needs to strengthen their position as one of the leading beauty retailers online. They have been carrying products from some of the most sought-after and high-end brand names of the industry since 2005. Ultra Fragrances has just taken delivery of four new makeup and skincare ranges that are set to embrace the hottest season of the year:
gloProfessional: The minerals and pharmaceutical grade ingredients of gloProfessional's award-winning mineral makeup and skincare products are celebrated for their corrective and remedial benefits. They are enriched with safe and advanced formulations that provide natural makeup finish and optimum skin health support. Get that perfect, smooth canvas with glominerals gloPressed Base and glominerals gloProtective Liquid Foundation. Help the skin restore its oil and moisture balance with glominerals gloMoist Hydration Mist. Eliminate wrinkles and improve the elasticity of the skin around the eyes with glotherapeutics gloEye Restore Dark Circle Eye Treatments.
Shany Cosmetics: Environmentally responsible and big on value, Shany Cosmetics use over 90% natural ingredients to create finely milled and highly pigmented eyeshadow formulas. Every eyeshadow palette is made from 100% recyclable materials and is made by hand for the costs to remain low. The top products from their eyeshadow palette array are the Shany Eyeshadow Palette, Bold and Bright Collection (Vivid 120 Color), Shany Natural Fusion Eyeshadow Palette (88 Color Eyeshadow Palette, Nude Palette), Shany Everyday Natural Look Eyeshadow Palette (12 Colors Eyeshadow Palette, Large Pan Size, Limited).
Sigma Beauty: Sigma is a top-rated manufacturer of innovative and high-quality makeup brushes today. Created by the company owners' knowledge in engineering and scientific advancements, Sigma makeup brushes are performance-tested and durable to suit the particular needs and wants of every consumer to enhance different methods of makeup application. Some of their best-selling products are the Sigma Beauty Flat Top Synthetic Kabuki, Sigma Essential Kit and Sigma Eyes Kit.
Xen-Tan: Xen-Tan produces a range of self-tanning products that are very easy to use and devoid of the usual dreadful smell. Conceived and created by a group of tan enthusiasts, its unique and innovative self-tanner formula guarantees flawless and streak-free tan that looks incredibly natural. Some of their products that are currently getting lots of hype are the Xen-Tan Dark Lotion, Xen-Tan Deep Bronze Luxe, Xen-Tan Premium Sunless Tan E! Live From The Red Carpet Perfect Blend and Xen-Tan Premium Sunless Tan Hard To Reach Back Applicator.
About Ultra Fragrances:
Ultra Fragrances is where luxury meets affordability. It is a one stop online destination for carefully selected, highly raved, and top-selling beauty must-haves available at affordable prices. Since 2005, they have carried the largest and widest inventory of designer fragrances, cosmetics, hair, and skin care products. Among the vast selection of luxurious brands they offer are Gucci, Dolce Gabbana, Cartier, Creed, Donna Karan, La Prairie, Burberry, Philosophy, Zirh, Calvin Klein, Aramis, Lacoste, Versace, Bliss, theBalm, and more. Visit http://www.UltraFragrances.com for the latest trends and most-talked about beauty finds.