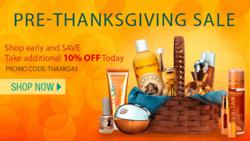 Ultra Fragrances is known for having the best prices for brand name fragrances and beauty products online...
San Jose, CA (PRWEB) November 21, 2012
While most retailers hold off on Holiday promotions and sales until the day after Thanksgiving (a.k.a. Black Friday), Ultra Fragrances is giving shoppers a great Holiday savings head start by rolling out their 3-Day Pre-Thanksgiving Sale in preparation to celebrating the most-anticipated Thursday of the year.
Ultra Fragrances, a premiere online retailer of discounted brand name perfumes, makeup, hair and skin care products has just announced that their 3-Day Pre-Thanksgiving Sale will begin on November 20 and will end on Thursday, November 22, 2012. Huge discounts and amazing bargains await online shoppers as Ultra Fragrances is taking additional 10% off on all purchases for selected brands of perfumes, colognes, makeup, skincare and hair care products by entering promo code THANKS43 during checkout. Among the extensive selection of luxurious brands they offer are Gucci, Dolce Gabbana, Cartier, Creed, DKNY, La Prairie, Burberry, Philosophy, Xen-Tan, Calvin Klein, Travalo, Lacoste, Versace, Burt's Bees, theBalm, and more.
"This is such an exciting time for us here at Ultra Fragrances and we are on a mission to ease some of the holiday gift-giving pressures on our customers' part," said Tammy Huynh, CEO of Ultra Fragrances. "With our Pre-Thanksgiving sale, there's no need to go to beauty stores before heading to Thanksgiving dinner or wake up at the crack of dawn to avail affordable fragrances and beauty products. This early Thanksgiving deal offers mind-blowing value to smart shoppers on a budget with many gifts to buy."
Ultra Fragrances is known for having the best prices for brand name fragrances and beauty products online already being up to 50% more affordable than other fragrance retailers. Thousands of shoppers will be able to stock up on their favorite fragrances and beauty products of high quality at a fraction of the cost.
About Ultra Fragrances:
Ultra Fragrances is where luxury meets affordability. It is a one stop online destination for carefully selected and top-selling brand name perfumes and high-end beauty must-haves available at affordable prices. Since 2005, they have carried the largest and widest inventory of designer fragrances, cosmetics, hair, and skin care products. Ultra Fragrances offers secure and hassle-free shopping experience which guarantees fast and reliable worldwide shipping, right to your doorstep. Visit http://www.UltraFragrances.com to learn more about the latest fragrance and beauty trends today.